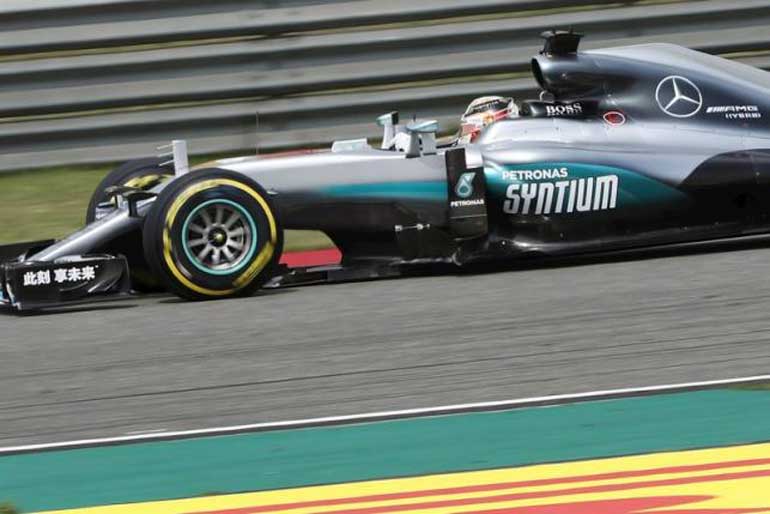 Formula One - Chinese F1 Grand Prix - Shanghai, China - 17/4/16 - Mercedes Formula One driver Lewis Hamilton of Britain drives during the Chinese Grand Prix – REUTERS
Reuters: Formula One drivers expressed concern on Thursday that the sport was heading in the wrong direction with its plans for a 2017 rules revamp.

Teams have until Saturday to approve the regulations by majority vote, rather than unanimous agreement, and have already hammered out most of the details in meetings over the past few months.

The plans are for cars and tyres to be wider and more aggressive looking, making them more exciting and harder to handle while also producing closer racing.

Drivers fear, however, that aerodynamic changes will instead make it harder for cars to follow and overtake.

"You hope that the engineers who know what's going to happen -- just like they knew with the qualifying -- I hope they are proven wrong," triple world champion Lewis Hamilton told reporters at the Russian Grand Prix.

"If they aren't, then we're stuck in that period for three years and for the fans, it doesn't get any better. But those guys who made the decision have to live with it," said the Mercedes driver.

Formula One revised its qualifying format this season in a bid to shake up starting grids but the move was derided as a fiasco, by fans and teams alike, and scrapped after two races.

Hamilton's team mate and championship leader Nico Rosberg said he had hoped the teams would have second thoughts about the 2017 changes.

"Our opinion was that it's not the right direction to go," he said. "Now that's the way it is, so now all we can do is accept it and make the most of it and hope that there are going to be some surprises."

Mercedes have been dominant since the 1.6 litre V6 turbo hybrid power units were introduced in 2014, the team winning 35 of 41 races. However, rivals Ferrari and Red Bull appear to be catching up.

The Mercedes drivers views chimed with those of team boss Toto Wolff, who has said the sport should put the changes on hold because cars were already faster, performance gaps narrowing and races more exciting.

McLaren's Jenson Button and Fernando Alonso also said they felt it was worth waiting for greater convergence between the various power units before making major changes.

Haas's Mexican driver Esteban Gutierrez felt introducing wider cars and tyres was the right move but was "not fully convinced" about increased downforce "which will naturally make overtaking more difficult."
Hamilton fastest in Russia, Vettel stops
Formula One world champion Lewis Hamilton boosted his morale with the fastest lap in Russian Grand Prix practice on Friday after Mercedes team mate Nico Rosberg set the early pace and Ferrari suffered reliability problems.

Rosberg, chasing his seventh win in a row and fourth of the season, was quickest in the morning around the Olympic Park used for the 2014 Winter Games in the Black Sea resort.

The championship leader dropped to third in the afternoon, however, with Hamilton setting a best time of one minute 37.583 seconds on supersoft tyres compared to Rosberg's 1:38.450.

Ferrari's Sebastian Vettel stopped on track during the second session.

Hamilton is the only driver to have won in Russia since the race's debut in 2014 and he needs to complete the hat-trick on Sunday to eat into his team mate's hefty 36 point lead after just three of the 21 races.

The Mercedes pair, who have won 35 of the last 41 races between them, were comfortably ahead of the rest in the morning but Vettel was second fastest for Ferrari after lunch.

The four-times world champion, whose team have suffered power unit problems in two races this season, was halted by an electrical failure with an hour to go.

Ferrari's Kimi Raikkonen was fourth in both practices.

Australian Daniel Ricciardo, who tested a new head protection device at the start of the session and has finished fourth in all three races, was sixth and fifth for Red Bull in the two sessions.

Russian team mate Daniil Kvyat was seventh, with McLaren's Jenson Button eighth and Fernando Alonso 10th in a boost for Honda-powered McLaren as they fight their way back up the pecking order after a nightmare 2015 season.

Renault's Russian test driver Sergey Sirotkin, who will be competing in the GP2 support series this season, replaced Denmark's Kevin Magnussen for the first session.

He ended up 13th fastest with regular race driver Jolyon Palmer 18th.