Malcolm Read makes

co-driving debut in Sri Lanka
Sri Lanka's very first rally with international accreditation from Asia Pacific Rally Championship (APRC), is set to kick off in glorious fashion when Sri Lanka's leading rally racing team, EZY Racing, forms a formidable partnership with Sajaad Zuhair and rally veteran and 2011 National Rally Champion, Shafraz Junaid, take on the 200km Rally in the Eastern Province on the little island.

The dominant EZY Racing duo will both be co-driven by international co-drivers, which will also see EZY Racing's International Rally Team's co-driver Malcolm Read make his debut in Sri Lanka. Read, who is a key figure in EZY Racing's international success, brings years of experience to guide Zuhair who will be making his maiden appearance in gravel rallying.

Zuhair, who has been a dominant figure for EZY Racing since its inception in 2009, is currently in his maiden season in the fastest class in the country, the SLGT 3500CC category. However the same cannot be said for Shafraz Junaid, who is a seasoned campaigner, having represented the team since inception and has won several rallies for EZY Racing. Junaid will also be co-driven by another APRC co-driver Sean Gregory.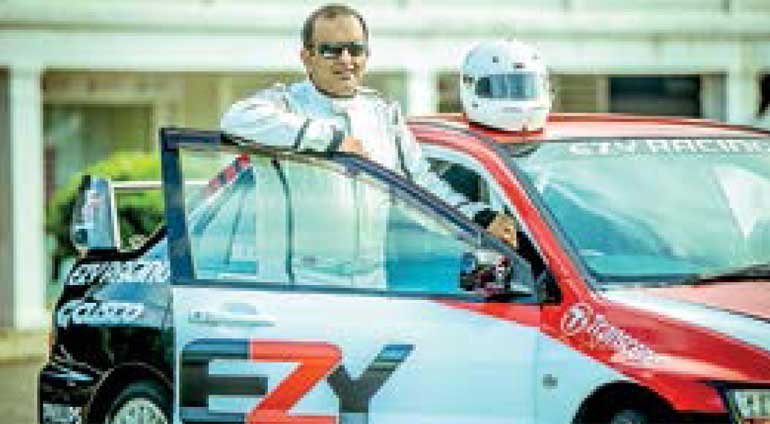 EZY Racing's front runner, Sajaad Zuhair
"We are making a comeback into Rallying in Sri Lanka after a lapse of two years. In the Past Rizvi Farouk and Shafraz Junaid provided us numerous wins, including three championships. We are hopeful that the new combination of Junaid and Sajaad will be equally formidable though Sajaad is still getting his hands around the ER9 in the SLGT category," said EZY Racing's Founder and CEO Shafraz Hamzadeen.

The Rally will also see former EZY Racing international race driver, Dinesh Deheragoda competing as one of the front runners of the Rally.

Commenting on the weekend ahead, Zuhair said: "It's a whole new experience for me. I have never focused on Rally Racing which requires a different commitment and preparation to the usual circuit racing. Our team fortunately is blessed with an abundance of rally experience which includes my co-driver Malcolm who also co-drives Mike internationally. I am eagerly looking forward to learn from him and see what I could do best for the team."

Organised by the Southern Motor Sports Club (SMSC), Rally Sri Lanka will see close to 25 competitors tackling 200-kilometres of challenging gravel stages. Rally Sri Lanka will run according to the FIA Special Stage rally format which will see 10 Special Stages, with a Super Special stage at the Oluvil Harbour on Friday. The Race will take place on 4 August followed by the Shakedown and Super Special Stage on the 5 August.