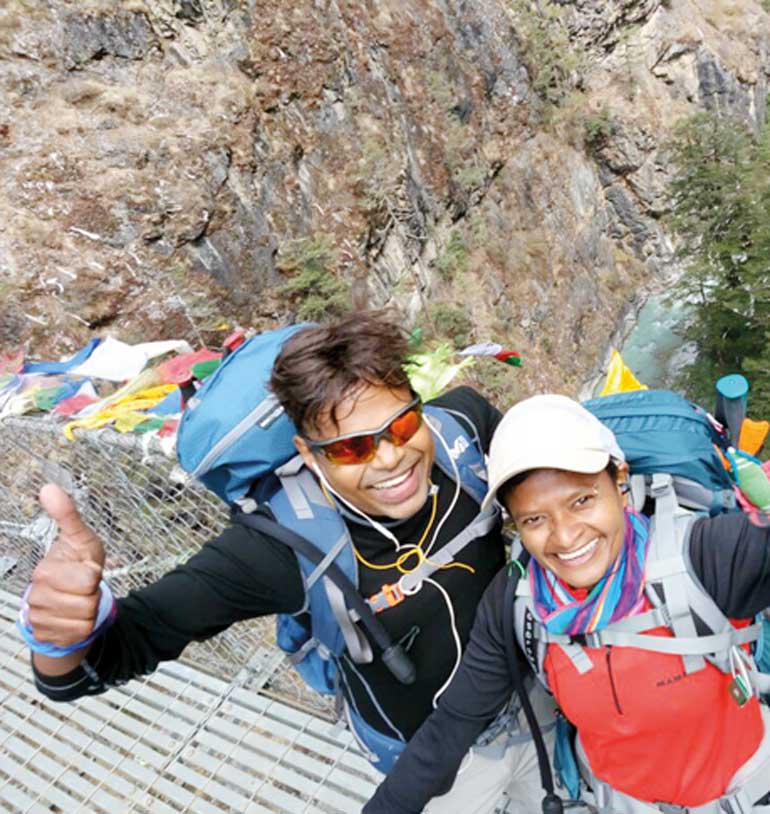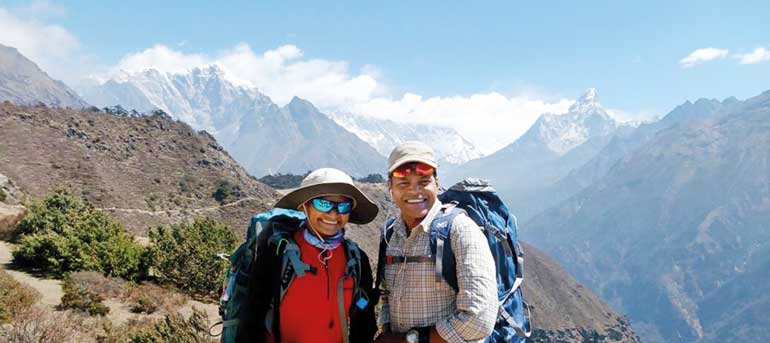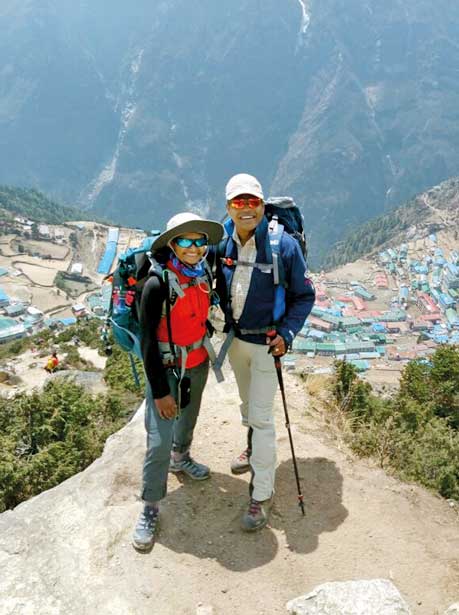 Jayanthi Kuru-Utumpala and Johann Peries, on their quest to conquer Mount Everest and bring glory to Sri Lanka, have left Namche Bazaar (3,440m), the last town and first acclimatisation point on their Everest Expedition.

The hike to Namche Bazaar from Monjo (2,835m), was a continuous, steep uphill climb taking four hours. Jayanthi and Johann had to consume a lot of water and walk very slowly, breathing in and out with every step, to prevent altitude sickness. They spent two nights in Namche Bazaar where they did a day trek following the 'hike high sleep low' principle. On the trek day they had their first view of Mount Everest.

Commenting on the journey, Jayanthi Kuru-Utumpala, said "We were a bit nervous as altitude sickness can hit us at any time now; however we drank lots, walked slowly and are feeling good. The two days acclimatisation in Namche Bazaar is critical and we're pleased with the way our bodies have responded to the altitude."

Also commenting on their journey, Johann Peries added: "The support from Sri Lankans has truly been remarkable and I would like to thank everyone for all the messages of support that we have received. The sight of Mount Everest gave me goose-bumps and I can't wait to attempt the summit of the mountain."

Prior to Monjo, Jayanthi and Johann flew from Kathmandu to Shurke (2,290m). They were to fly in a small plane to Lukla (2,845m), however cloudy conditions prohibited flights landing in Lukla. The expedition team therefore took helicopters to Shurke, which is at a lower altitude, and the team then trekked 1.5 hours uphill to reach Lukla.

In Kathmandu, Jayanthi and Johann were busy putting the final touches on their preparation which included practicing with technical mountaineering gear, shopping for altitude sickness tablets and meeting their guides, Sherpas and other mountaineers.

The Everest Expedition Team wish to thank their sponsors: Summit Sponsor – Fairway Holdings; Airline Partner – SriLankan Airlines; Base Camp Sponsors – Seylan Bank, Sri Lanka Mobiltel Telecom, and Janashakthi Insurance; and Gear Sponsors – SEALs, Petzl and Victorinox.