ESPNCricinfo: There had been surprise in the Sri Lanka camp about how quickly the SSC pitch become a vipers' nest, but a recalibration of Sri Lanka's batting strategy helped yield better returns in the second innings.

Sri Lanka had collapsed to 183 in 49.4 overs, not long after the likes of Wriddhiman Saha, R Ashwin and Ravindra Jadeja struck fluent half-centuries for India. But faced with a rapidly-deteriorating pitch, Sri Lanka's batsmen still managed 386 in the second dig - by far their best innings in the series. Dinesh Chandimal, the captain, said the sweep shot was key to that comparative success.

"After the second day's play we felt it was tough to bat on the pitch," Chandimal said. "We tried to play straight but we couldn't score well. Before the second innings we had a discussion and had a chat about what was the best way to score runs. Everyone agreed that the best way moving forward was by using the sweep and reverse sweep shots heavily. We executed really well in the second innings, and we fought back hard."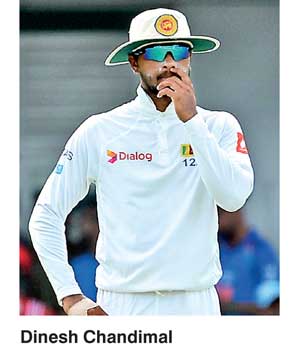 What was clear, however, was that India's spinners gained much more assistance from the surface than Sri Lanka's had. Ravindra Jadeja and R Ashwin took one five-wicket haul apiece in this match, and had begun to make the ball spit off the track as early as the second evening. This is after Rangana Herath, Dilruwan Perera and Malinda Pushpakumara - Sri Lanka's three frontline spinners - had collectively conceded 457 for 7.

"We were surprised as well because the pitch started turning more than we thought - more than it was in the first one-and-a-half days," Chandimal said. "At the moment we have in attack two experienced bowlers - Rangana Herath and Dilruwann Perera. We had a wicket that turned and we expected them to come, into the game. But we couldn't execute those plans."

If Sri Lanka emerged from the match with a little pride in-tact, that was largely due to their second-innings century makers. Dimuth Karunaratne and Kusal Mendis shared a 191-run stand, which is the highest partnership by or in Sri Lanka, when a team is following on. They were also Sri Lanka's first centuries of the series. "It was a really good effort by both Kusal and Dimuth," Chandimal said. "I still feel that everyone fought very hard but we kept losing wickets."

Before the match, Chandimal had recoiled at suggestions his team could lose the series 0-3. The very mild upshot of losing this game inside four days, is that Sri Lanka have a little more time to focus on the Pallekele Test, which begins on August 12.

"We have four days to train now," Chandimal said. "We try to win every match. Even over the next few days we are hoping to spend a lot of time and energy in training. If we can win even one match against a team like this, we will be able to really boost the confidence in the team. They are the No. 1 team. The staff and everyone else will be really committed in training."
---
Jadeja suspended for final Sri Lanka test
Reuters: India spinner Ravindra Jadeja has been suspended for the third and final test against Sri Lanka at the Pallekele stadium after accumulating six demerit points over a 24-month period, the International Cricket Council (ICC) said on Sunday.

Jadeja was named man of the match for the second test after scoring 70 with the bat in the first innings and picking up five wickets in Sri Lanka's final innings to lead India to a series-clinching victory in Colombo.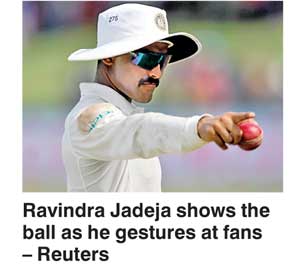 The 28-year-old had entered the match with three demerit points that he picked up for running down the middle of the pitch while batting during the Indore test against New Zealand in October 2016.

He was handed a further three demerit points in the second test against Sri Lanka for an incident on Saturday when he fielded the ball off his own bowling and threw it back at batsman Dimuth Karunaratne, who had not left his crease.

The ICC said that Jadeja breached article 2.2.8 of the player's code of conduct which prohibits "throwing a ball (or any other item of cricket equipment such as a water bottle) at or near a Player... in an inappropriate and/or dangerous manner during an International Match".

He was fined 50% of his match fee, the ICC added.

ICC rules state that crossing the four demerit points threshold results in two suspension points.

The ICC said that two suspension points equate to a ban from one test or two ODIs or two T20Is, whatever comes first. As such, Jadeja will miss the third test that will take place from Aug 12-16.

The sport's governing body said that Jadeja had admitted to the offence and accepted the sanction and therefore, there was no need for a formal hearing.
---
Kohli praises winning habit after Sri Lanka win
Reuters: India believe their winning habit at home and abroad will create even greater success, captain Virat Kohli said on Sunday after their second-test victory over Sri Lanka clinched the three-match series.

It is their eighth successive test series win under Kohli, who also became the first Indian captain to triumph in two test series in Sri Lanka after the victory by an innings and 53 runs at Colombo.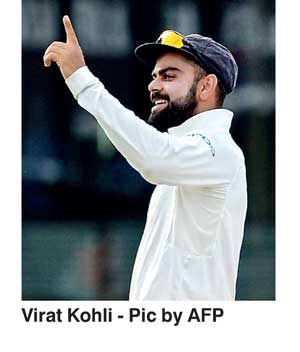 Another win in the third test, which starts at Pallekele on Aug. 12, would see them complete their first test series whitewash in Sri Lanka, but Kohli says their mindset is not affected by such landmarks.

"It's obviously nice to win this series again," Kohli told reporters. "Yes, we do have that chance (of an away whitewash), but honestly speaking, we are not looking at test matches or test cricket now as home and away anymore.

"We are just looking at test matches as test matches and we want to win anywhere that we play.

"We are creating a habit of winning. That I think can be carried on in the future as well. Test cricket is the most important thing for us. And everyone plays with a lot of passion."

Kohli praised the batsmen for their impressive performances over the last few tests and says the high morale in the dressing room could help the team continue their winning streak. "If you see, last nine test matches, six times we've got 600 runs. That shows the hunger of the batsmen, they are waiting for an opportunity, there are lower-order contributions as well... they feel great as a team," Kohli added.

"In the dressing room we feel really proud of each other's efforts, that we're really putting in those consistent, convincing performances, and winning test matches more often than getting the other results.

"We really feel good as a team that we're able to win consistently right now, but we realise that it's very important to keep carrying on the same way as well."