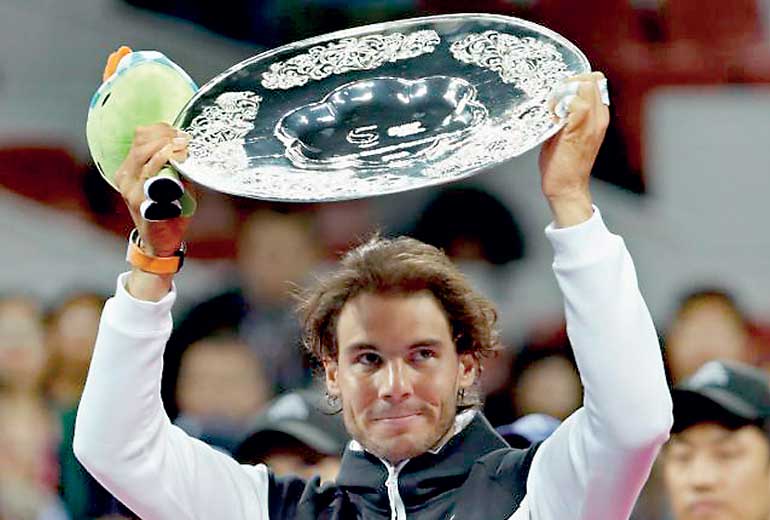 Reuters: For all his renowned mental strength it was psychological exhaustion that made Rafa Nadal consider skipping the season-ending ATP World Tour finals this year, the 14-times grand slam champion said on Tuesday.

Nadal struggled for form all year and failed to win a major for the first time since his maiden French Open title in 2005, dropping out of the top five in the ATP rankings for the first time in 10 years.

But his participation in the World Tour finals in London this month was never in doubt ranking-wise.

"I thought I would qualify. I always believed that I was going to be in the top eight at the end of the season, but always with the respect (for other players)," Nadal told a news conference ahead of this week's Paris Masters.

"I am humble enough to say, Okay, if I keep playing bad, I'm probably gonna be in trouble. But I had the feeling in some moments I would be playing better.

"I believe my level is to be there in the top eight even if I had tough moments this year."

Nadal was knocked out in the Australian Open quarter-finals before suffering only his second defeat at Roland Garros when he lost to Novak DJokovic in the last eight of the French Open.

It was followed by a second-round exit at Wimbledon and a third-round defeat at the U.S. Open.

Asked if he considered not going to London for the World Tour finals because of physical or mental problems, Nadal replied: "Not physical, no. Mental.

"I was not enjoying myself on court and not feeling competitive, so then in the most difficult tournament of the year, in the toughest surface for me of the year, it probably would not have made sense to play."

The Spaniard is sixth in the ATP rankings and lies fifth in the Race to London, having secured his qualification for the Nov. 15-22 event.

He will start his Paris Masters campaign on Wednesday with a second-round match against Czech qualifier Lukas Rosol or fellow Spaniard Guillermo Garcia-Lopez.