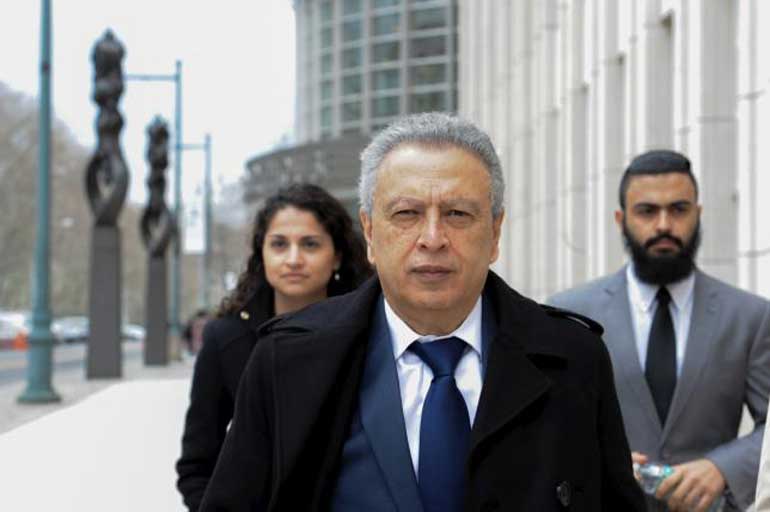 Alfredo Hawit (C), a former FIFA Vice President from Honduras, exits a federal courthouse in the Brooklyn borough in New York – Reuters
REUTERS: A former high-ranking football official in the Americas pleaded guilty on Monday to charges that he participated in bribery schemes uncovered in a US investigation of corruption in the sport's world governing body, FIFA.

Alfredo Hawit, a former FIFA Vice President from Honduras who also led the North and Central America and Caribbean confederation, CONCACAF, pleaded guilty in federal court in Brooklyn, New York, to four conspiracy charges.

Hawit is one of 42 individuals and entities charged as part of a US investigation of more than $ 200 million in bribes and kickbacks sought and received by football officials for marketing and broadcast rights to tournaments and matches.

The investigation has sent Switzerland-based FIFA and other football governing bodies into an unprecedented crisis. Gianni Infantino, FIFA's newly elected President, has vowed to restore FIFA's image.

Hawit, 64, pleaded guilty to racketeering conspiracy, two counts of wire fraud conspiracy and conspiracy to obstruct justice. He also agreed to forfeit $ 950,000 as part of his plea agreement.

Speaking in Spanish, Hawit admitted in court to having received hundreds of thousands of dollars in bribes from two sports marketing companies that were seeking media rights for football matches and tournaments.

"I knew it was wrong for me to accept such undisclosed payments," Hawit said through a translator.

To date, 15 people and two sports marketing companies have pleaded guilty in the US case. Prosecutors in a court filing on March 28 said they were in plea negotiations with multiple defendants.

Hawit, who also led the Honduras football federation, FENAFUTH, had been arrested at a Zurich hotel on Dec. 3 along with South American football chief Juan Angel Napout as the US Department of Justice unveiled charges against 16 people. Prosecutors estimate that under federal sentencing guidelines, Hawit faces 78 to 97 months in prison.

An indictment alleged that executives at an Argentine sports marketing company Full Play Group S.A. agreed to pay Hawit $ 250,000 in bribes in a failed bid from 2011 to 2012 to secure CONCACAF marketing rights.

In court, Hawit said while serving as FENAFUTH's general secretary, he also beginning in 2008 received "hundreds of thousands of dollars" in bribes from Miami-based Media World for the rights to 2014, 2018, and 2022 World Cup qualifier matches.

Hawit said that after the original indictment in the case was unsealed in May 2015, Hawit advised a co-conspirator to create sham contracts "to mask the true nature of the bribe money" and to deceive law enforcement about the payments.