Mahela Jayawardena's illustrious career as an international cricketer may have wound up with the 2015 ICC World Cup, but his affair with the game is far from over. He is still involved with the game as a player in T20 leagues and on the sidelines. With Sri Lanka, whom he played for, and England, for whom he was a batting consultant, set to face off in a series in England soon, he foresaw a keen contest.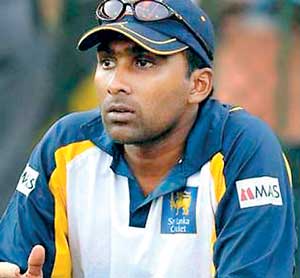 Jayawardena had a lot of praise for the England team he worked with in UAE, hailing the players' hunger to constantly elevate their game.

"Guys like Jos Buttler, Stokes and all these talented individuals, it was good to work with them," Jayawardena told ICC Cricket 360°. "They are guys who work hard and listen to what you say and they want to improve their game, which is great. So these guys will definitely improve and want to do better going forward. It's a very talented group of guys and it's a young team and the energy levels they have on and off the field is amazing."

Sri Lanka meanwhile, Jayawardena acknowledged, was facing a bit of a slump. Yet, he was upbeat about its prospects of bouncing back. The fast bowling attack especially came in for praise.

"If Dhammika Prasad is fit, if Suranga Lakmal is fit, Nuwan Pradeep with Dusmantha Chameera, we have got four top fast bowlers, which you need in England conditions," he said. "In Test cricket, you've got an experienced batting line-up. You've played 20-30 Test matches now, which is a fairly decent amount. So it will be a good challenge for our boys," he added.

He spoke highly of Angelo Mathews, the captain, acknowledging his "phenomenal" record since taking over as skipper, but said the remainder of the batting line-up had to rally round him to take the pressure off his shoulders.

"Angelo Mathews is going to be that pivotal player for Sri Lanka for the next five-six years and the rest of the boys have to bat around him," said Jayawardena. "His numbers are very good, so just needs to keep doing that rather than just putting unnecessary pressure on himself."

"What happens is if you're the captain and the best player, the opposition will target you and make sure that you don't perform, so that it affects the entire team."

While Jayawardena has enjoyed the time he gets post retirement to spend with daughter Sansa, he jokes that the sentiment is not necessarily reciprocated. "I think she's found me a bit more annoying as well now because I'm spending a bit more time with her and not letting her do certain things!

But I've thoroughly enjoyed the time the last year or so. She's travelled with me as well to many places, so it's been good, quality time," he added. "When I got back from India, she wanted me to bat and she wanted to field, which is encouraging because usually either you want to bat or bowl. She's just happy to be fielding, so let's see how long that lasts."