Reuters: England squad members received postcards from Sam Allardyce saying their "journey has just begun" on Thursday, two days after his short reign as manager was brought to an abrupt end, according to British media reports.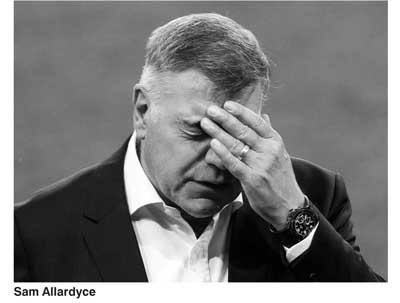 Allardyce guided England to a 1-0 win over Slovakia in a World Cup qualifier in his only game in charge this month but lost the job having behaved "inappropriately" when seeking a lucrative sideline role while talking to undercover reporters.

Each card was personally signed by Allardyce and sent out to every member of the squad that beat Slovakia, with the aim of promoting a feel ing of togetherness ahead of next month's World Cup qualifiers against Malta and Slovenia.

The message on the postcard, which was sent out by the Football Association the same day as Allardyce's 67-day tenure ended, read: "Well done! Our journey has begun with our first win together. Looking forward to seeing you soon."

Gareth Southgate, coach of the under-21 side, will take charge of the senior team on a caretaker basis for the next four matches, including three World Cup qualifiers and a friendly against Spain.