Worldwide Partner gives passionate fans once-in-a-lifetime rugby flag bearer experience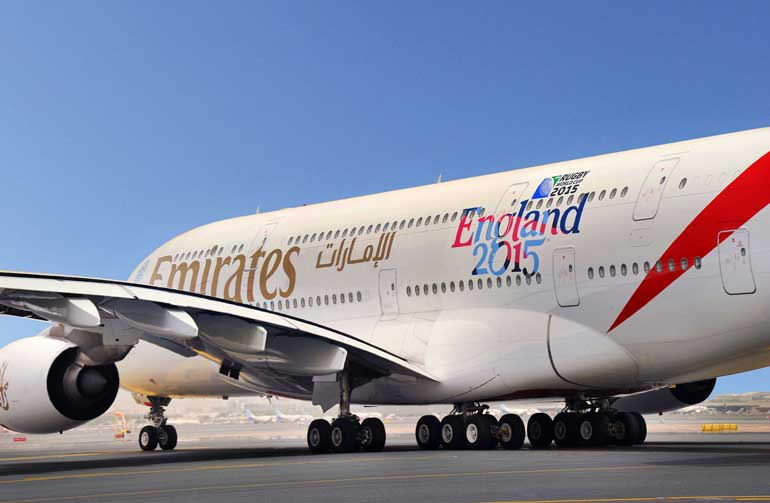 Emirates RWC2015 Emirates-A380
Emirates, Official Worldwide Partner of Rugby World Cup 2015, has been bringing passionate fans closer to the game globally and in the host country, England.

Emirates kicked off its campaign by giving young fans the chance of a lifetime to be Flag Bearers who lead the teams onto the pitch before the match. 100 Flag Bearers, aged 14-16 years old, were recruited to be part of the games. The youths came from the host country and other key Rugby-playing nations that Emirates flies to including South Africa, Australia, New Zealand, France, Italy and Japan.

Busy globe trotters and travelling rugby fans need not miss the action from Rugby World Cup 2015 with matches screened on the live TV channel, Sport 24, onboard Emirates flights. Over 70 planes in Emirates' fleet have Live TV installed, with more constantly being equipped. Free Wi-Fi service is also available on more than 110 Emirates aircraft so passengers can log on and catch the latest updates and highlights of each match.

Customers in select Emirates airport lounges will also be able to catch the matches live. The games are being screened in Dubai, London Heathrow, Gatwick, Manchester, Glasgow and Birmingham. Accounting for the time difference, delayed telecasts will also be played at the following Emirates lounges: Auckland, Sydney, Melbourne, Perth, Brisbane and Johannesburg.

"The Emirates experience has always been about connecting fans to what they love," said Boutros Boutros, Emirates' Divisional Senior Vice President, Corporate Communications, Marketing & Brand. "Our Emirates Flag Bearer programme is giving the rugby stars of tomorrow an unforgettable experience and connection to the sport. Our various activations throughout the Tournament are aimed at encouraging passionate fans from around the world to come together in a global celebration of rugby."

With the world now descending on the home of rugby for the Tournament, fans in Twickenham will also have the chance to have their Flag Bearer moment by visiting the Emirates 360° Experience in the Richmond Fanzone. Innovative camera technology captures fans from every angle flying their nation's flag. The GIF can instantly be shared on social media and fans who tag @Emirates and use #BringingRugbyHome could win a 5-star trip to Dubai.

Rugby fans travelling to, or watching from home, any Rugby World Cup 2015 match can also enter the #BringingRugbyHome competition by sharing their patriotic pictures on social media using the hashtag.

Emirates has a rich rugby heritage and an extensive portfolio of top-class rugby sponsorships. It first sponsored Rugby World Cup 2007 in France as a Tournament Sponsor, then became a Worldwide Partner for Rugby World Cup 2011 in New Zealand, and became the first Worldwide Partner to sign an agreement for both Rugby World Cups 2015 and 2019, which will be held in Japan.