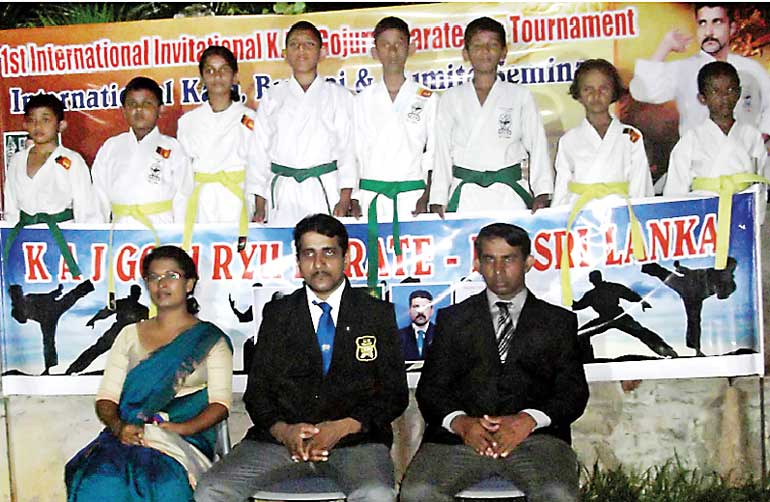 The officials participating in this karate tournament (from left seated): K.K.C. Samanthika (Secretary K.A.J. Karate-Do Organisation), Sensei Damith Bandara (President Chief Instructor Karate-Do Organisation) and Assistant Instructor Karate-Do Organisation Dushmantha Rajapaksha.
Eight students of under 15 junior team representing the 7th International (Gojuryu) Karate Tournament to be held in Calcutta, India on 25 and 26 December.

Six schools will be taking part in this karate tournament while the students are scheduled to leave today (23 December) and return on 28 December. Other countries participating in this tournament are India, Bhutan, Nepal, and Bangladesh. The participants from Sri Lanka are, Poorni Ramitha(Mandawala Maha Vidyalaya), Hansana Damindu (Gampaha Bandaranayake College), Eshan Lakshitha (Siyane National College, Dompe), Dilmith Eshan (Dompe Maha Vidyalaya), Shehasna Imashi (Mandawala Primary School), Sachintha Erandika (Mandawala Primary School), Himansa Randunu (Iddamaldeniya Junior School, Dompe), and Janaka Theekshana (Dompe Primary School).