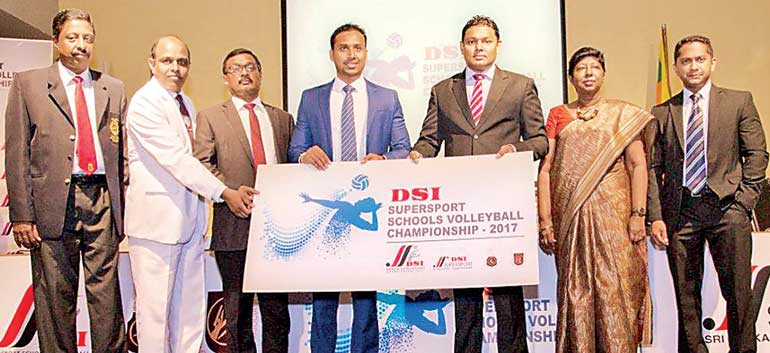 DSI, this week, announced the launch of the DSI Supersport Schools Volleyball Championship 2017, which will begin on 20 May.

Having joined hands with the Sri Lanka Volleyball Federation and the School Volleyball Association of the Ministry of Education, Sri Lanka's leading footwear manufacturer and distributor has come forth to conduct the championship for the 17th time.

Initiated in 1999 by DSI with the collaboration of the Sri Lanka Volleyball Federation and the Ministry of Education, the DSI Supersport Schools Volleyball Championship provides both rural and urban players with an opportunity to develop and showcase their talents and further build their careers in both national and international arenas. Since its initiation, the tournament has served to produce a total of 40 national sports personalities.

A special addition to this year's tournament agenda is the re-introduction of the Under-13 Boys/Girls category with the objective of developing an enthusiasm and passion for the country's national sport amongst youngsters as well.

The tournament will be conducted at district and national levels with the former being conducted from 20 May to 12 June and the latter taking place between 24 and 28 June. The finals are scheduled to be held on 8 and 9 September.

With the addition of the new category, the organisers expect to see the application of almost 4000 teams from all four categories – Under-13 Boys/Girls, Under-15 Boys/Girls, Under-17 Boys/Girls and Under-19 Boys/Girls. A considerable number of teams will be taking part from the Northern and North Eastern Provinces.

Applications for the tournament will be sent out to all schools and can be collected from all DSI showrooms across the island, as well from the sports division of all Provincial Educational Departments and Zonal Education Offices. Completed applications must be posted to the Department of Marketing of D. Samson & Sons Ltd. at No. 257. High Level Road, Nawinna, Maharagama or handed over to the nearest DSI Showroom. The title, 'DSI Supersport Schools Volleyball Championship – 2017' must be mentioned on the left corner of the envelope.

"We at DSI have been honored and delighted to play such a vital role in ensuring the development of our national sport for the past 17 years. We are also very happy about our partnership with the Sri Lanka Volleyball Federation and the Sports Division of the Ministry of Education. The main objective of organising this championship is to develop the talents of both urban and rural young sportsmen/women and to assist them in qualifying for the national and international levels of the game. As a local conglomerate, DSI has been able to achieve this objective over the past 17 years by producing talented sportsmen/women who have achieved greatness and we wish to continue our efforts in supporting the further development of the game of volleyball in Sri Lanka," stated the Managing Director of D. Samson & Sons Ltd. Thusitha Rajapaksa.