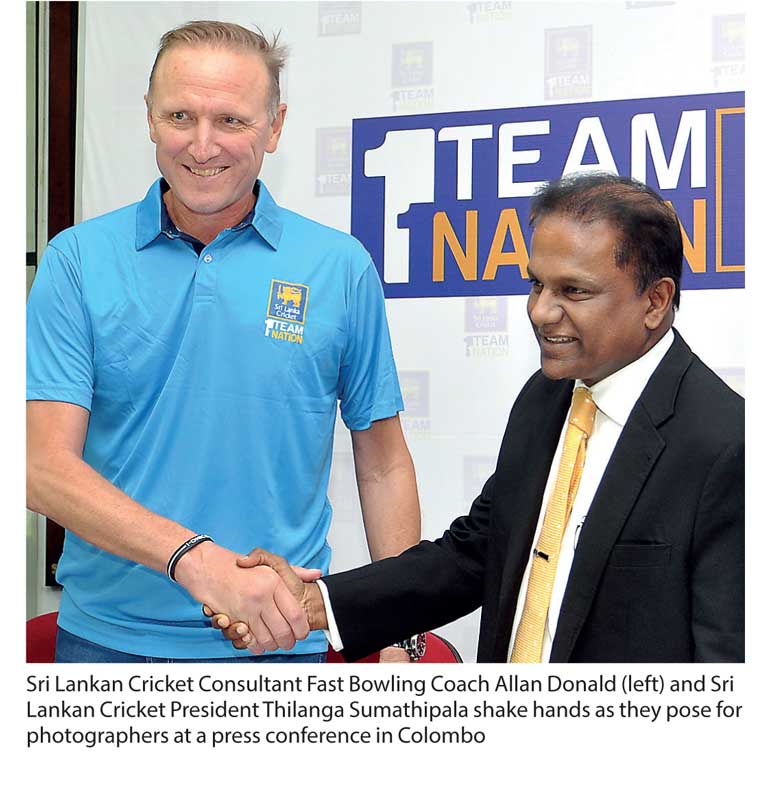 By Madushka Balasuriya

Two months may not be a lot of time in the grand scheme of things but Allan Donald hopes he can add some much needed intensity to Sri Lanka's fast bowling contingent in his brief stint as the team's new fast bowling consultant, ahead of next month's Champions Trophy in England.

The former South African pacer was his country's bowling coach from 2011-2015 and oversaw their band of quicks' transition into some of the most fearsome in world cricket. Sri Lanka however, for all their fast bowling talent in recent times, has more often than not lacked the necessary cutting edge at the business end of matches. Donald though believes that a shift in attitude might be all that is needed in unleashing Sri Lanka's hidden pace talent.

"The biggest thing that matters to me is the attitude toward what you do, and how you embrace the conditions that you play in. It doesn't matter, you can bowl at 128km/h or 150km/h, the attitude still stays the same."

Donald will join Chaminda Vaas, Champaka Ramanayake, Ravindra Pushpakumara and Nuwan Zoysa in aiding Sri Lanka's pace attack, but insists he will not be looking to wholesale changes in the way things are run. Instead he is simply looking at ways in which he can help Sri Lankan fast bowlers tap into their inner drive.

"I see my role as a little bit more of an inspirational role, and that's what I'm going to work at accordingly. The next couple of weeks I'm looking to get to know the squad better, to know all the bowlers, their personalities - from what they need in terms of their fast bowling and what their goals are, but also to know where my place is.

"It's for me to understand the individuals and to understand them very quickly from a personal point of view, from a tactical point of view, from a health point of view and what they need. I'm definitely not here to jump in and change things willy-nilly, that's definitely not how it works."

In that context Donald will also work with Sri Lanka's development squad of fast bowlers as well as several from the grassroots level.

"Potentially one of my first projects tomorrow is working with the emerging young fast bowlers, and also to work with the other fast bowling coaches. It's not just about the national team and what goes on in the national side, it's about the people below as well, the grassroots level and where we can make a difference."

Champions

Trophy aspirations

Donald's primary role however will be guiding Sri Lanka's fast bowlers on their English adventure next month. It won't be an easy task as Sri Lanka will be firm underdogs after being pitted in a group containing the likes of South Africa, India and Pakistan. Donald however believes adapting quickly to the English conditions could provide a decisive advantage in a tournament with little margin for error.

"Playing in England is a very different challenge, especially in June, but I really do believe that if you go out there and see what you've got and see what you're confronted with - this tournament is brutal because you make a mistake and you could be out - I believe that this Sri Lankan attack has got what it takes to win this tournament. A lot of skill, a lot of leadership, a lot of leadership within the team, so what is there to be scared of? So to me it is the attitude you bring to the table."

Sri Lanka Coach Graham Ford, who was speaking at the media briefing alongside Donald, echoed his compatriot's views on the need for a stronger mentality in key moments of games, and believes Donald will help his bowlers set the necessary tone.

"So much of fifty over bowling is starting the innings exceptionally well and setting the tone up front, which is something that Allan himself did so many times, and then of course to finish the innings off the skills at the end are so important, and again it's something that Allan did brilliantly himself.

"It's really just to try and make sure that our bowlers are best prepared to set that tone upfront. Yes we need to take wickets in the middle because that always slows down the run rate, but very importantly how we finish the innings because if we finish that well so much of fifty over cricket is about momentum."

The Malinga Factor

Nuwan Kulasekara, Suranga Lakmal and Nuwan Pradeep make up the bulk of Sri Lanka's travelling party of fast bowlers, while allrounders Angelo Mathews and Thisara Perera will also be expected to roll their arms. However, much of Sri Lanka's hopes will lay squarely on the returning Lasith Malinga.

Malinga only made his comeback to the national side in February for three T20s in Australia after a year out with a knee injury, and Ford is expecting to utilise him as best as they can in England.

"I think he is very determined to really make an impact, and I know that he has been working incredibly hard on his fitness, but you know, even if he's not giving us the full 10 overs he is a class act at setting the tone up front and finishing the innings off. If we can have the privilege of using him in those areas it's certainly going to hold us in good stead."

Malinga has long been plagued with fitness problems and a fully fit Malinga has been a rare sight in recent times. However, Ford believes that his latest return from injury has highlighted a hitherto unseen work ethic in the fast bowling spearhead.

"I'm really hoping that he's going to be 100% fit. All the indications are that he's going to be able to give us something special. His attitude in Australia really made me feel that he's missed international cricket, he's missed doing wonderful things for Sri Lankan, and as time runs out on his career I think he's very determined to make an impact in this tournament."

Pix by Ruwan Walpola
SLC announces new appointments
Sri Lanka Cricket yesterday announced the appointment of Aruna de Silva as its Operations Manager for the forthcoming Zimbabwe and India tours of Sri Lanka 2017.

De Silva, who was a member of the Executive Committee of Sri Lanka Cricket, successfully conducted the Youth Asia Cup 2016 and the ICC Women's World Cup Qualifiers 2017 in his capacity as the Host Tournament Director, and was invited by the Executive Committee at a meeting held on 22 April 2017 to take on this role in order to bridge the gap in the administrative and operational arm of SLC.

De Silva resigned from his post as a member of the Executive Committee of SLC with effect from 22 April and the committee unanimously appointed Priyantha Zoysa to the committee in his place.

De Silva will take on responsibilities with immediate effect with a view to ensure enhanced facilities for the two forthcoming tours. SLC said de Silva is an experienced administrator with over two decades of senior management experience in logistics and operations and was highly commended by both the Asian Cricket Council and the International Cricket Council for his role in the successful hosting of the two International events in Colombo in the past six months. Joining the Executive Committee, Zoysa has served as an SLC ExCo member in 1995/1996 and again in 2004/2005.