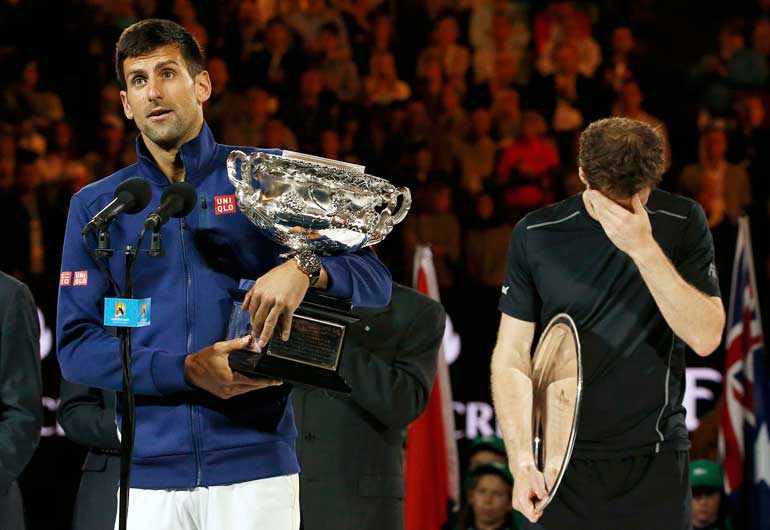 Britain's Andy Murray reacts as Serbia's Novak Djokovic (L) speaks while holding the men's singles trophy after Djokovic won their final match at the Australian Open tennis tournament at Melbourne Park, Australia, 31 January – REUTERS
Reuters: Novak Djokovic crushed Andy Murray 6-1 7-5 7-6(3) on Sunday to match Roy Emerson's record of six Australian Open titles and leave the Briton heartbroken again at Melbourne Park.

The defending champion was at his ruthless best under the lights at Rod Laver Arena, mauling Murray in the baseline duels and closing out the match in two hours and 53 minutes.

Murray succumbed to his fifth loss in five Australian Open finals, and fourth against the Serbian world number one, who claimed his 11th grand slam title to draw level with the totals of Australian Rod Laver and Swede Bjorn Borg.

Having fended off Murray in a marathon second set, Djokovic again had to put down some stiff Murray resistance in the third as the Scot refused to go quietly.

But having been dragged into a tiebreak, Djokovic sealed the title on his third match point with a clinical ace down the T.

For a man who has owned the year's first grand slam for five of the past six years and won his first in 2008, Djokovic's celebrations were subdued and he gave Murray a consoling pat on the chest as they shook hands.

After walking around the court and pumping his fist at clutches of thrilled Serbian fans, Djokovic ripped off his shirt and flung it to a young woman who jumped up and down in delight.

"Andy, you are a great champion, a great person and a great friend and I'm sure you are going to have more opportunities to fight for this trophy," Djokovic said at the trophy presentation.

"It's a great privilege to match the record of one of the greatest players to play the game," he added, referring to Laver who was watching on.

Murray, whose wife Kim is heavily pregnant at home in Britain and was rocked by a medical emergency involving his father-in-law at the tournament, was magnanimous in defeat.

"I feel like I've been here before," Murray said jokingly as he took the microphone.

"I'd like to congratulate Novak. Six Australian Opens is an incredible feat. And what he has done in the last year has been incredible consistency."

Murray becomes only the second man to lose five finals at the same grand slam - joining former coach Ivan Lendl who lost five at the US Open.