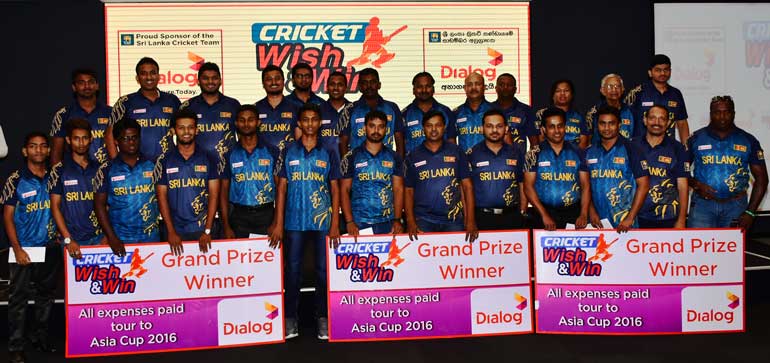 Dialog is offering Sri Lankan cricket fans a chance to watch their favourite cricketers in action at the Asia Cup in Dhaka Bangladesh and World T20 in India, with the Cricket Wish & Win competition.

Dialog is offering a grand total of 777 prizes for cricket fans wishing the Sri Lankan team for their upcoming campaigns, including a chance to win 77 all inclusive tours to watch Sri Lanka play in the Asia Cup and the World T20, plus, brand new LED TV's, Dialog Optima Smartphones, Dialog Home Broadband connections, Dialog WiFi dongles, Dialog Television Connections, and Original Sri Lanka Cricket Fan T-shirts.

Over the last two weeks 27 winners received all-expense paid tickets to witness Sri Lanka play at the Asia Cup in Bangladesh, whilst two lucky winners each won LED TV's, Dialog Television connections, Optima 2 Smart Phones, Wifi connections, broadband connections and 180 lucky winners won Original Sri Lanka Cricket fan t-shirts.

Two Dialog 'SLC Lankawe Ape Jathika Pathuma – Rata Wata Wishing Trucks' commenced their journey from Point Pedro in Jaffna and Dondra in the South to collect wishes to our team from all Sri Lankans before converging in Kurunegala on 17 March for the live screening of the first World T20 match featuring Sri Lanka.

Members of the public can upload their wish to the team and post a selfie via the wishing trucks, whilst they could also send their wish via SMS by typing SLC<space>Your Wish<space>NIC number and sending to 2343, from any number any number of times. Fans can also partake in the 'Cricket Wish & Win competition' via wishing online on Facebook and twitter or by visiting: www.dialog.lk/wish-win. All wishes via SMS, Facebook, Twitter and the wishing trucks enter the draw to stand a chance to win the grand prizes, weekly and daily prizes.

Daily draws commenced from 18 February and end at noon on 3 April. The winners of the 77 all inclusive tour will receive the air ticket, match tickets, hotel accommodation, transport, and food and beverages to watch Sri Lanka play at the Asia Cup and World T20. Four groups will travel to Asia Cup and World T20 matches, with one group having already won tickets for the Sri Lanka vs Pakistan match, tickets can still be won for three matches featuring Sri Lanka in the World T20 in India, by simply sending in your wish.