Sri Lanka Cricket President Thilanga Sumathipala (MP) accepting the sponsorship check from Dialog Axiata PLC Group Chief Executive Dr.Hans Wijesuriya with the presence of Minister of Sports Dayasiri Jayasekara, Dialog Axiata PLC Group Chief Marketing Officer Amali Nanayakkara, SLC Vice President Jayantha Dharmadasa, Sri Lanka Cricket Captain Lasith Malinga, SLC Secretary Mohan De Silva and Sri Lanka Team Coach Graham Ford. Pix by Indraratne Balasuriya.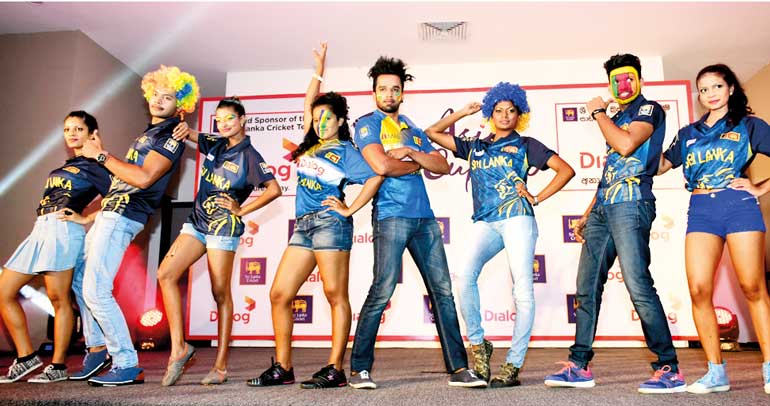 Sri Lanka's premier telecommunications service provider, Dialog Axiata PLC, will sponsor the Sri Lankan cricket team at the Asia Cup 2016, commencing in Dhaka, Bangladesh next week.

Defending Champions, Sri Lanka, will take on the winner of the tournament qualifying rounds in the opening game on 25 February, before they meet hosts Bangladesh on Sunday 28 and India and Pakistan on 1 and 4 March respectively before the knockout stage.

Thilanga Sumathipala (MP), President of the Asian Cricket Council and Sri Lanka Cricket said: "'In Sri Lanka, cricket has always been more than just simply a sport — it unites this island, and it embodies the spirit of sportsmanship. Our team, with its fans around the world has never failed to give everything they've got toward the game, and we have no doubt that the upcoming Asian Cup will not be an exception. I want to extend my heartfelt gratitude to Dialog Axiata for extending their backing beyond the sponsorship agreement to support our cricket team's campaign to defend the Asia Cup title in Bangladesh."

Group Chief Executive of Dialog Axiata PLC, Dr. Hans Wijayasuriya, said: "We are privileged to once again partner with Sri Lanka Cricket as we prime to defend our position as Champions in the region. As a long-standing partner of the sport in Sri Lanka, we are singularly proud of the exemplary performance of our national team on and off the field. We wish the team success during their campaign to bring back the Asia Cup"

Sri Lanka beat Pakistan in a hard fought final at the Asia Cup 2014 to become Asian Champions for the fifth time at the Sher-e-Bangla National Stadium, Dhaka, Bangladesh. The

Sri Lankan contingent for the Asia Cup 2016 will be led by Lasith Malinga who will be setting his eyes on 'Bringing the Cup back'.

The inaugural Asia Cup was played in 1984 at the Sharjah CA Stadium, UAE with Indian taking top honours beating Sri Lanka in the finals. In 1986 Sri Lanka won their first Asia Cup beating Pakistan at the SSC Grounds, Colombo. Sri Lanka won again in 1997, 2004, 2008 and 2014.

About Dialog:

Dialog Axiata PLC, a subsidiary of Axiata Group Berhad (Axiata), operates Sri Lanka's largest and fastest growing mobile telecommunications network. Dialog has been at the forefront of innovation in the mobile industry in Sri Lanka since the late 90's, propelling the nation's mobile telephony infrastructure to a level of advancement on par with the developed world.

Dialog, a winner of two World Awards at the GSMA Mobile World Congress in 2015, has the distinction of being voted by Sri Lankan Consumers as the Telecom Service Provider of the Year for four years in succession at the SLIM-Nielsen People's Choice Awards. Dialog has topped Sri Lanka's Corporate Accountability rankings for the past 5 years in succession and is an ISO 9001 certified company. Dialog is also one of the largest listed companies on the Colombo Stock Exchange in terms of market capitalisation. Dialog is also Sri Lanka's largest Foreign Direct Investor (FDI) with investments totalling over USD 1.85 billion.

Dialog delivers advanced mobile telephony and high speed mobile broadband services to a subscriber base in excess of 10 Million Sri Lankans, via 2.5G and 3G/3.5G and 4G networks. Dialog Axiata supplements its market leading position in the Mobile Telecommunications sector with a robust footprint and market presence in Sri Lanka's Fixed Telecommunications and Digital Television markets through its fully-owned subsidiaries Dialog Broadband Networks (Private) Ltd (DBN) and Dialog Television (Private) Ltd., (DT\J).