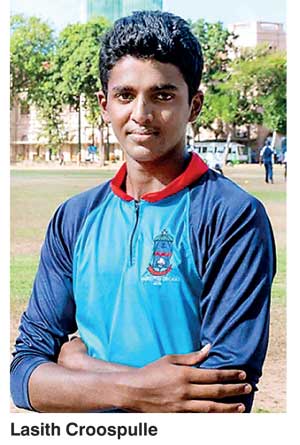 As the combined results for the 14th and 15th week of the Dialog 4G-the Sunday Times Most Popular Schoolboy Cricketer of the Year 2017 comes out, a major change has occurred at the top position of the All-Island Schools segment. After nine long weeks, Navindu Nirmal of St. Aloysius College Galle has lost his stranglehold on the top spot as he was dethroned by Lasith Croospulle of Maris Stella College Negombo.

Lasith gained 29,086 votes during the past two weeks, the highest received by a schoolboy cricketer so far in this competition within a fortnight, to top the All-Island Schools segment with a resounding tally of 99,181 votes. Interestingly, most of Lasith's votes have come from coupons.

His lead over Nirmal, who has been forced down to the second slot, is a healthy 6,014, which means Lasith's followers have been quite busy even during the holiday season. Nirmal, meanwhile, received 6,582 votes during the two weeks and his tally moves to 93,167. Mohamed Najath of Zahira College has slowed down considerably as his total reaches 58,825 after receiving 2,269 combined votes.

The only change that occurred during the past two weeks is the progress of Mohamed Rifaz of President's College Kotte from tenth to ninth, which caused the slide of one-time leader Lakshina Rodrigo of St. Peter's College by a single place. The full list was pruned down to a Top 20 from the beginning of April. The list will be further cut down to 15 by May. By the end of May it will be shortlisted to a Top 10.

Pulitha Yasas Sri Sarathchandra of Sri Sumangala College, Panadura continues to dominate the Emerging Schools category while the International Schools category is still led by Shimraz Shahil of Alethea International School.
Important

Coupons for the competition will be published in the Sunday Times, the two English dailies, the Daily Mirror and Daily FT, and the two Sinhala dailies, Daily Lankadeepa and Ada. Coupons will run for 26 weeks with the deadline set for the week beginning on 2 July. Readers can vote for their favourite schoolboy cricketer and take them to the winning post during that period.

Online voting can be done through Dialog Axiata's digital online voting system portal. To vote for the Most Popular Cricketer visit www.dialog.lk/cricket. The digital voting counts of weeks 14 and 15 were monitored and approved by auditors PricewaterhouseCoopers.


All-Island Schools
Lasith Croosepulle (Maris Stella College) 99,181
Navindu Nirmal (St. Aloysius' Galle) 93,167
Mohamed Najath (Zahira College) 58,825
Charana Nanayakkara (Thurstan College) 10,371
Santhush Goonathilake (St. Peter's College) 8,890
Romesh Nallaperuma (S. Thomas' College) 6,407
Dinitha Basnayake (St. Benedict's College) 5,632
Helitha Vithanage (Royal College) 1,773
Mohamed Rifaz (President's College) 1,242
Lakshina Rodrigo (St. Peter's College) 1,205
Nikesh Anjana (S. Thomas' College) 686
Sahan Suraweera (Ananda College) 677
Dileepa Jayalath (Ananda College) 531
Hareen Buddhila (St. Aloysius College) 430
P.A. Dananjaya (Richmond College) 291
Sammu Ashan (Ananda College) 221
Pasindu Sooriyabandara (Royal College) 208
Asel Sigera (Ananda College) 183
Sanjula Abeywickrama (Isipathana College) 181
Jehan Daniel (St. Joseph's College) 117
Emerging Schools
Pulitha Yasas (Sri Sumangala Panadura) 2,592
Sahan Perera (Christ King Pannipitiya) 230
Imesh Basnayake (St. Peter's Gampaha) 189
Gimhana Dhanushka (Piliyandala Central) 130
Nipuna Ransika (P. de S. Kularatne MV) 98
Methushan Thilina (Kegalu Vidyalaya) 83
Raveen Yasas (Devapathiraja Rathgama) 44
Hirusha Mendis (Siddartha Central Balapitiya) 32
Suminda Lakshan (De La Salle Mutwal) 27
Tissara Dilshan Jayananda (National School Polonnaruwa) 8
Shrushee Adhishtana (St. Bernadette Kurunegala) 1
International Schools
Shimraz Shahil (Alethea International) 260
Tariq Haniff (Wycherley International) 1
Readers prizes go to: 1. Kavindya Rasanjali, 92/4, Amunukumbura, Wathurugama, 2. T.C.K.P. Abeynayake, A-15-B/C-1-42, Ranpokunugama, Nittambuwa, 3. Yustes Fernando, 308B, Jubilee Mawatha, Katunayake, 4. Parakrama Fernando, 40/9, Bellantara Road, Dehiwela.