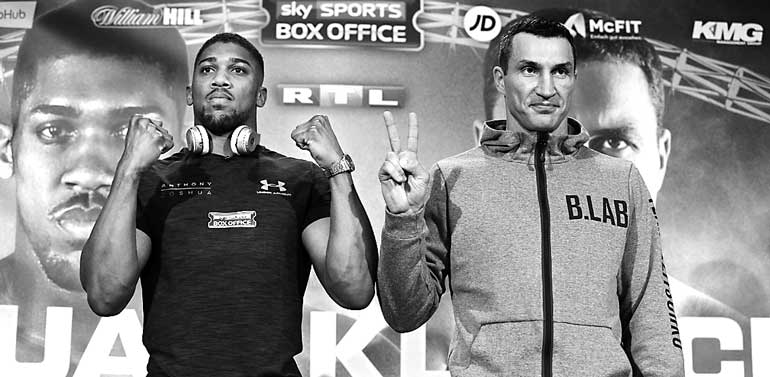 Reuters: Wladimir Klitschko told IBF world heavyweight champion Anthony Joshua defeat was "nothing to be scared of" at a packed news conference ahead of their sell-out title fight at Wembley Stadium on Saturday.

Ukrainian Klitschko, 41, said he was obsessed with reclaiming the heavyweight titles he lost against Britain's Tyson Fury in November 2015 – his first defeat in 11 years.

Britain's Joshua, making his third defence of the IBF title he won against American Charles Martin last April, looked nervous at Sky TV headquarters where renowned American MC Michael Buffer introduced the fighters.

Asked if he had thought about what a first professional defeat would feel like after 18 straight knockouts, the 27-year-old Joshua looked nonplussed and was helped out by Klitschko who was clearly more used to the big fight build-ups.

"I will help you. I've been there and done that. I shook it off and came back stronger," Klitschko, like Joshua a former Olympic champion, said. "It's nothing to be scared about."

There was none of the bad feeling and insults that marked the build-up to his fight with Fury – rather a polite respect from both men and their entourages.

Instead Klitschko, dressed in a grey tracksuit, went on a charm offensive, describing Britain as boxing's Mecca and saying he and Joshua were polishing the sport's reputation.

"I'm going to fight a guy whose age is exactly the number of how long I have been in boxing. 27 years. Can you imagine that?" Klitschko, who has won 64 of his 68 fights, said.

"Is it a degradation that I'm a challenger and an underdog in this fight? I don't think so. I think it's a great opportunity. I feel young, hungry, humble and totally obsessed with my goal to raise my hands again as the winner."

London-born Joshua, like Klitschko standing at 1.98 metres, described Saturday's fight as a "stepping stone to greatness".

"I win. It's not complicated. This isn't rocket science – this is just a fight," said Joshua, who held an open workout, as did Klitschko, at Wembley Arena on Wednesday.

"Let's get this out of the way then keep the ball rolling."

Klitschko jokingly referred to one report that he had an eye socket injury as "fake news" and drew applause when he said he had made a video recording of himself predicting the outcome which he would keep on a USB stick sealed in his robe before it is auctioned off to raise money for his foundation.