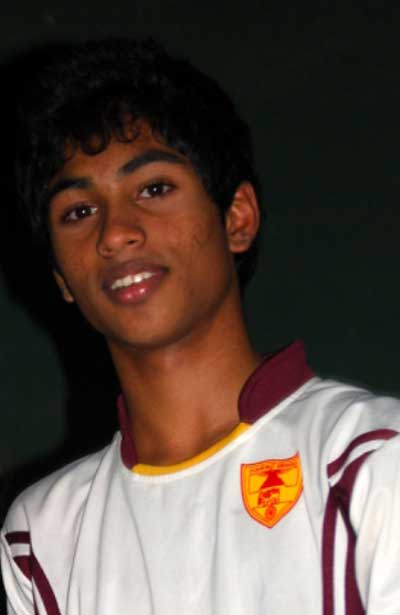 Dakshika Gunatilleke
By Shamseer Jaleel

Dakshika Gunatilleke, an advanced level student at Ananda College Colombo, is currently representing the Sri Lanka National Badminton squad at the Sudirman Cup 2015 in China. Dakshika is the only school boy to represent the National Team in the current tournament, bringing honour to his school and the country.

He is an enthusiastic scholar at Ananda College who showed signs of his extraordinary talent in badminton when he won many national championships which includes the under 13 junior national championship and became the upcoming player of the year 2009, under 15 junior championship both single and doubles in 2011 and under 19 all island championship organised by SSC in 2014.

While establishing his position in the local badminton arena, he further proved his capabilities by representing Sri Lanka in many international competitions that includes Li-Ning youth international championship in 2010, 2011, 2013 and junior international championship in Australia 2013. He also represented Sri Lanka at the World Badminton Championship 2014 in Malaysia and Ana Badminton Championship in Japan in under 15 and 17 categories, bringing honour to his country and the school. He contributed immensely to uplift the game in the school and popularise it while captaining under 14, 15, 16, and 19 college team and is the current overall college captain.

Dakshika is coached by Pushpakumara, Indika Matarage, Dhanushka Silva and Janaka Dias. He has been further guided at the national level by Yamaha Motto, Shankar Annamale, and the current coach Yashiyuki Nakamura.