Executive Diploma of Tourism Events and Hotel Management under the Department of Economics, University of Colombo organised a Cricket Carnival for the first time to celebrate the United Nations World Tourism Day in Sri Lanka on 25 September at the Colombo University Grounds under the UNWTO theme 'Tourism for All – Promoting Universal Accessibility'. The main purpose of organising this UN-WTO Tourism Day celebration was to provide a platform for academics and professionals to make a valuable contribution for the development of tourism in Sri Lanka through integrating and networking with the key stakeholders of the industry. There were 26 teams participating from the travel and hospitality industry and eight teams from the University Tourism Study programmes' students including a lecturers' team.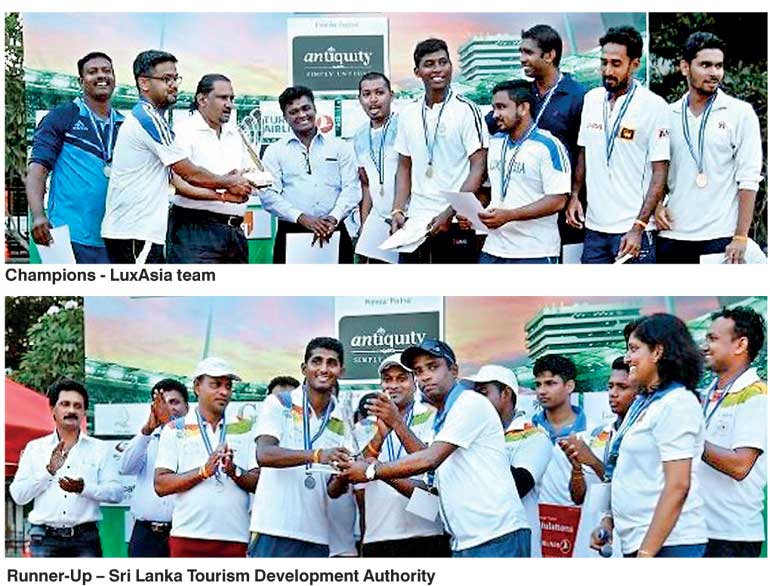 There were several games lined up during this event to build more networking amongst all participants and add colour to the event. The Champion Trophy was won by the LuxAsia team – players were Ranga Pradeep, Thajul Riaz, Hussam Hayas, Rizwan Kuwaildeen, Tharanga De Silva, Shanendra Fernando, Kajenth Thanabalasingham and Salmaan Haque. The trophy was sponsored by Antiquity – a brand of Raffles Leisure Ltd.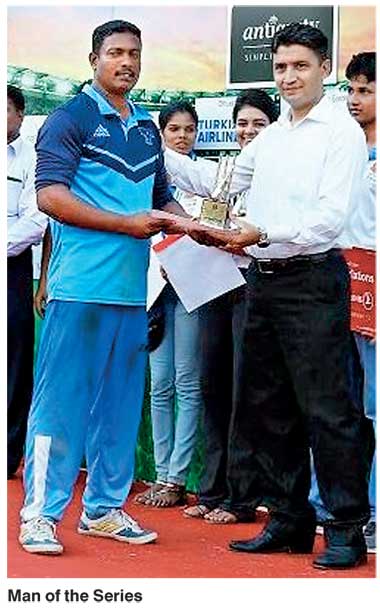 The Runner-Up Trophy was won by Sri Lanka Tourism Development Authority Team – players were Samantha Kumara, Chinthaka Dias, Upul Sanjeewa, Aruna Prasanjeewa, Sudesh Rohan, Manoj Kumar, Mahesh Rathnasena and Asanka Lokuge. The trophy was sponsored by Visit Lanka Ltd. The Best Batsman trophy was sponsored by Lanka Super Corals, along with a certificate and one night stay on half board at Lanka Super Corals. The Best Bowler trophy was sponsored by Tangerine Tours, along with a certificate and one night stay at Thilanka Hotel – Kandy. The winner of the Highest Number of Sixes received a trophy sponsored by Regent Spice Garden, along with a certificate and one night stay at Kassapa Lions Rock. The Man of the Series trophy was sponsored by Turkish Airlines, along with a certificate, one night stay at Coco Royal Beach Resort and an airline ticket to travel to any European destination through Turkish Airlines. The highlight of the Cricket Carnival was that one player could successfully achieve all trophies lined up for Best Batsman, Best Bowler, Highest Number of Sixes and Man of the Series. This unique man was Ranga Pradeep of LuxAsia.

The following sponsors contributed to make the event a great success beyond expectations: Premier sponsor – Inbound Tour Operator – Antiquity – brand of Raffles Leisure Ltd.; Official Airline Partner –Turkish Airlines; Official Spice Garden Partner – Regent Spice Garden; Official Inbound Tour Operators – Ceylon Tours, Visit Lanka Ltd., Tangerine Tours, Lion Royal Tourisme, Sita Travels, Concorde Exotic Voyages, Asian Adventures, Fortune Lanka, Exotic Holiday International, Go Vacations, NKAR Travels & Tours, Viluxur Holidays; Official Hotel Partners – Lanka Super Corals, Lanka Hotels & Travels, Kassapa Lions Rock, Coco Royal Beach Resort, Asia Leisure, Sorowwa Resort & Spa, Danawwa Resort & Spa, Glenfall Reach Hotel, Thilanka Hotel Kandy, PJ Hotels – Jaffna, Green Gras Hotel – Jaffna, Cinnamon Hotels & Resorts, Galadari Hotel; other Co-Sponsors – Elephant House, Expolanka International, Fonterra, Nestlé, Orzone, Okura Hotel Services and Hameedia.
Team members of Executive Diploma of Tourism Events and Hotel Management (EDTEHM) 1st Batch: Roshi Stronach, Dilrukshie Perera, Sammani Perera, Suranthi Perera, Kalum Jayasinghe, Asangika Fernando, Sandani Fernando, Pameera Maduranga, Kamanthi Divelgama, Richard Pieres, Shannelle Tillekeratne, Kusal Subasinghe, Buddika Fernando, Chrishnathi Lakmali, Prassath Kanneshan, Buddika Gamage, Pethum Yarrow, Devmith Kaggodaachi, Sameera Lahiru, Rohan Nawarathne, Dilini Dharmawardhana, Charith De Alwis, Praveen Raj, Withana Wijetilaka, Sumudu Lindamalage, Ajith Uragaha, Ajith Weerasinghe, Amila Periyapperuma, Shamaali Mediwake, Indika Marasinghe, Thyaga Perera, Suganthi Dodanwatte, Sujith Leitan, Sacinthana Wijewardana, Kumara H.M.V.S., Karthigan S. and Gamini Wijetunge