LONDON (Reuters): Australia captain Michael Clarke said he could not have asked for a better performance from his team following their 405-run mauling of England in the second Ashes test at Lord's on Sunday.

"The intent from our batsmen through the second innings was great and the execution from the bowlers was spot on," he said at the presentation ceremony.

Australia surprisingly lost the first test in Cardiff by 169 runs but stormed back to level the five-test series at 1-1.

"We didn't really talk too much about Cardiff," Clarke said.

"Our focus was playing our best cricket here. We didn't play our best there, but now we can look in the mirror and say we played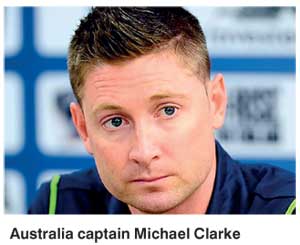 some good cricket here."

Australia made two changes to their side after the Cardiff loss, bringing in all-rounder Mitchell Marsh for out-of-form Shane Watson and wicketkeeper Peter Nevill for Brad Haddin, who withrew for personal reasons.

"Mitchell Marsh played really well," Clarke said.

"He showed how much of a team player he is. He took two crucial wickets in the first innings. Credit to the selectors for going with their gut. It was hard on Watto (Watson), but the selectors have to work out the best 11 for each game."

England captain Alastair Cook did not try to hide his disappointment at failing to build on the stirring win in the first test.

"To not back up our win at Cardiff is incredibly frustrating," he said.

"Credit to Australia, they put us under pressure and we weren't able to deal with it," he added.

"We didn't bowl with the same discipline and control. Over the last few games, we have been three down for 40-odd and that is an area of concern.

"We have to take this on the chin. Now it's about the character we need to show to bounce back. We came up short this week."

Cook said the problem was not with England's batting order.

"I don't think it's about where people bat, it's down to the players, they just have to get stuck in," he said.

"You've seen over the last eight days that the side which gets on top stays on top. Credit to Australia for getting ahead of the game and never letting us back in."

Cook denied asking the Lord's groundsman to prepare a flat lifeless pitch to negate the threat of the Australian pace bowlers.

"We haven't asked for wickets to be like this, we want good English wickets with a little bit in them," he said.