Reuters: China's Dalian Wanda Group, controlled by the country's richest man Wang Jianlin, has signed an eight-year exclusive partnership with badminton's international governing body, the latest high-level deal by Wanda to expand its global sports footprint.

Wanda signed the deal through its subsidiary, Swiss-based sports marketing firm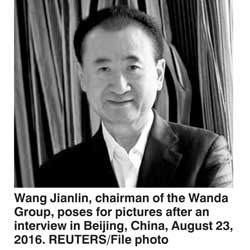 Infront Sports & Media, securing the exclusive sponsorship and media rights of major events of the Badminton World Federation (BWF).

"Wanda will continue to develop our sports business," said Wang, chairman of the property and entertainment conglomerate, at a signing ceremony on Friday. "(We're) determined to become a global leader."

The BWF deal will include control of all commercial rights for eight years to four international tournaments the federation now sponsors, along with future activities.

Financial terms were not disclosed, however Thomas Lund, BWF's secretary general, said revenue from the deal would be worth hundreds of millions of dollars over the eight-year period.

"We have a shared interest in developing the sport for the benefit of growing revenue and exposure," Lund told Reuters.

Wanda has been at the forefront of China's push into the business of sport, expanding aggressively with purchases of Infront Media, World Triathlon Corp - the organiser of Ironman Triathlon races - and a 20 percent stake in Spanish soccer club Atletico Madrid.

The company has inked 10 agreements with sports organizations and is likely to sign more before the end of the year, Wang said.

In July, Wanda signed a top sponsorship deal with soccer's global governing body FIFA and said it would organise the first China Cup from next year.

"We aim to become the best football competition in Asia," Wang told reporters at that time.

In June, Wanda became the worldwide exclusive partner for the sale and marketing of sponsorship and licensing rights for events by basketball's international governing body FIBA.