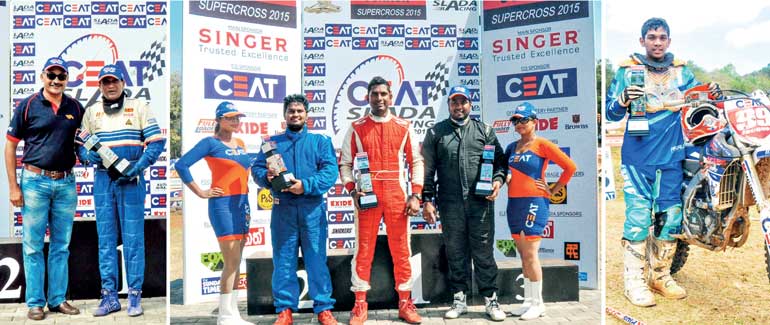 From left: CEAT Kelani Holdings Managing Director Vijay Gambhire with Upulwan Serasinghe and CEAT racers Ushan Perera, Janaka Dias, Pasindu Peiris and Jacques Gunawardana
The CEAT racing team's chances of retaining its status as car team champions in 2015 received a boost when the team achieved 21 podium finishes at the Gunners Supercross, conducted by the Sri Lanka Auto-sports Drivers Association (SLADA).

Members of the team secured 5 second-place, 7 third-place, 7 fourth-place and 2 fifth-place finishes at this race meet, garnering valuable championship points. Every one of the 11 racers on the team achieved podium finishes at the Gunners Supercross, worked off at the Artillery Complex in Minneriya, with Upulwan Serasinghe securing second place in four race events.

The CEAT racing team for the 2015 racing season comprises ace drivers Upulwan Serasinghe, Janaka Dias, Pasindu Peiris, Ushan Perera, Shashika Lakmal Wijerathna, Lalin Kirinda, Prasanna De Alwis, Lt. Colonel Duminda Jayasinghe, Lt. Colonel Indu Samarakoon and motorcycle racers Jacques Gunawardana and Sampath Kumara.

The team races under CEAT colours at the six race meets conducted by SLADA for the annual CEAT SLADA Championship and has performed consistently at the events already conducted for the 2015 trophy - the Foxhill Supercross and Gunners' Supercross. The remaining race meets for the year are the Sigiriya Supercross, Cavalry Supercross, Gajaba Supercross and the Rotherham Katukurunda Circuit Meet.

All of these race meets include the Ford Laser/Mazda 1300cc and 1500cc 'One Make' racing events, at which all competing drivers race on CEAT radial tyres. CEAT Kelani Holdings is the principal sponsor of these One Make races, in addition to being the title sponsor of the annual CEAT-SLADA Championship.

A global tyre brand whose credentials are built on performance, CEAT is the highest-selling brand in Sri Lanka's radial tyre market. Present in 110 countries and now headquartered in India, CEAT is an acronym that stands for Cavi Electrici Affini Torino, or Electrical Cables and Allied Products of Turin, with origins that date back to 1924 in Italy.