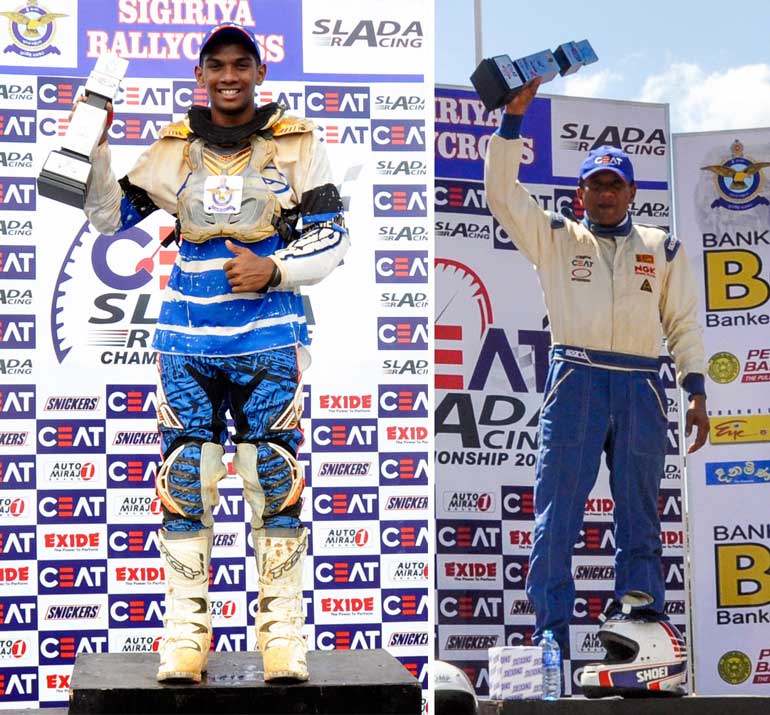 CEAT Racing Team members Jacques Gunawardana (left) and Upulwan Serasinghe at the Sigiriya Rally Cross
The CEAT Racing Team won two events and achieved a total of 12 podium finishes at the Sigiriya Rally Cross on Sunday, 2 August continuing the good form it has shown in the 2015 racing season.

The team's wins included Upulwan Serasinghe's first place at the Group SLN Cars – Ford Laser/Mazda 1300cc race and motorcyclist Jacques Gunawardana's victory in Race 2 in the Group MX – Over 175cc to 250cc event.

Overall, the CEAT Racing Team secured two first places, one second place, four third places, one fourth place and four fifth places at the Sigiriya Rally Cross, adding to its points tally for the 2015 car team championship.

The CEAT Racing Team for the 2015 racing season comprises of ace drivers Upulwan Serasinghe, Janaka Dias, Pasindu Peiris, Ushan Perera, Lalin Kirinda, Prasanna De Alwis, Lt. Colonel DumindaJayasinghe, Lt. Colonel Indu Samarakoon and motorcycle racers Jacques Gunawardana and Sampath Kumara.

The team races under CEAT colours at the six race meets conducted by SLADA for the annual CEAT SLADA Championship, and has performed consistently at the Foxhill Supercross and Gunners' Supercross. The remaining race meets for the year are the Cavalry Supercross, Gajaba Supercross and the Rotherham Katukurunda Circuit Meet.

Tarmac race meets include the Ford Laser/Mazda 1300cc and 1500cc 'One Make' racing events, at which all competing drivers race on CEAT radial tyres. CEAT Kelani Holdings is the principal sponsor of these One Make races, in addition to being the title sponsor of the annual CEAT-SLADA Championship.

CEAT Kelani Holdings was the principal sponsor of the Sigiriya Rally Cross 2015 in the sixth consecutive year of the company's support of Sri Lanka Air Force racing.

A global tyre brand whose credentials are built on performance, CEAT is the highest-selling brand in Sri Lanka's radial tyre market. Present in 110 countries and now headquartered in India, CEAT is an acronym that stands for Cavi ElectriciAffini Torino, or Electrical Cables & Allied Products of Turin, with origins that date back to 1924 in Italy.