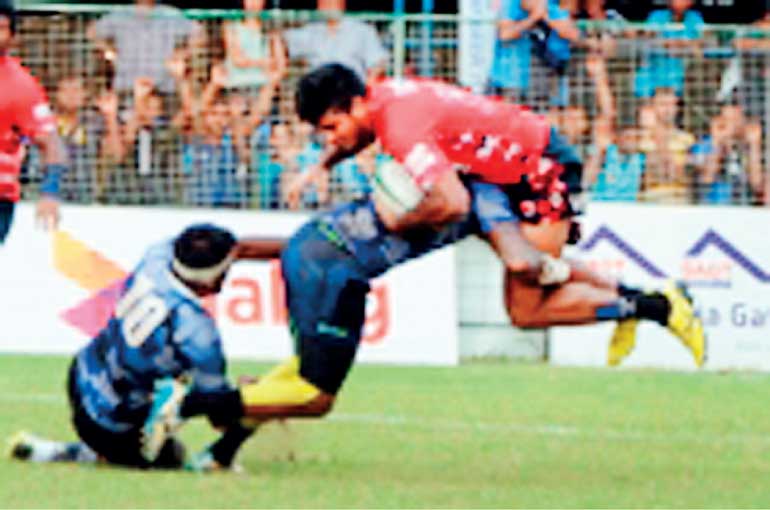 CR&FC winger Shashan Mohamed will play a vital part in Kandy this weekend
By Shamseer Jaleel

Kandy Sports Club playing minus five of their regulars will face the real test when they face a spirited CR & FC outfit who are all out to end home teams unbeaten run. This match will be the second last one for this season for Kandy SC at Nittawela. This game will be worked off on 14 February with the kick-off scheduled at 4/30 p.m.

Kandy will miss out the services of skipper Fazil Marija, Lavanga Perera, Srinarth Sooriyabandara, Gayan Ratnayake and Uchitha Jayasuriya. The unbeaten defending champions started their injury worries with their skipper pulling out with a slip disc which will keep him out of the league as well as up to the semi-final of the Clifford Cup knock-out encounter.

Winger Lavanga Perera was out with an ankle injury, he too will be out of action till end of the league. In the last match against Army, Kandy lost three more players – Srinarth Sooriyabandara, Gayan Ratnayake and Uchitha Jayasuriya. But luckily they have ample replacements but not to match to the potential of Sooriyabandara and Fazil Marija who are class acts who could walk in to any side in Asian rugby. Kandy will start with Nigel Ratwatte on fly half position and Jamaldeen likely to man the last line of defense as the full back.

The "Red Shirts" under the watchful eyes of their head Coach Imthisam Marrikar will be all out to pull this one off after many attempts. They have some outstanding players in their starting line-up who learnt their basics in Kandy. Jason Dissanayake, Shashan Mohamed, Tharinda Ratwatte and Lochana Hettiarachchi along with skipper Ishan Noor who could topple any side with their skills. This encounter will be controlled by Irshard Carder.

This week's matches will kick off with the last two placed teams CH and Air Force lock horns at the Race Course today. On form the Air men playing some quality rugby though ending on the losing side should pull this off. CH finding it tough this season will be ending the round 2 on bottom but was courage enough to go through the two rounds without any stoppage. Their participation in the Clifford Cup knock-out is in big doubt. This encounter will be controlled by Priyantha Gunaratne.

On Saturday (13) Havies will meet the Cops at the Police Park. Havies who are at number two position are the favorites to pull it off against inconsistent Police outfit. Havies are led by Sandun Herath having some good three quarters who could breach any defense. They also have Sudarshan Muthuthanthri, Hirantha Perera and Rahul De Silva to add more power to the Park outfit.

The Cops too have some solid players but their form has been inconsistent this season. They have full back Reza Mubarak, Sharo Fernando, Moahmed Sheriff and Bilal Hassen. Police coaching unit should be able to use the bench only when it's required, not to fill the required numbers which was witnessed in the last two games which resulted in ending on the losing side. Top referee this season Dinka Peiris will officiate this encounter.

In the other game wounded Soldiers will be meeting the Sailors at Diyagama on Sunday. Navy playing some inconsistent rugby like the Cops got some talented players in their starting line-up. They have Omalka Gunaratne, Lee Keegale, Sajith Saranga and Dinusha Fernando. While the Solders will heavily depend on their full back to have a good day at office through the boots of Gayan Salinda, with Salinda being one of the main players for the Army this season. This encounter will be monitored by referee Priyantha Gunaratne who will have his second game for the weekend with appointed referee Aruna Rankothge pulling out citing personal reasons.