Synonymous with the daring identity they have created for themselves as a pioneer in the Sri Lankan health food industry, Calorie Counter has once again set out to initiate a novel concept that will demonstrate the importance of a healthy diet and healthier lifestyle.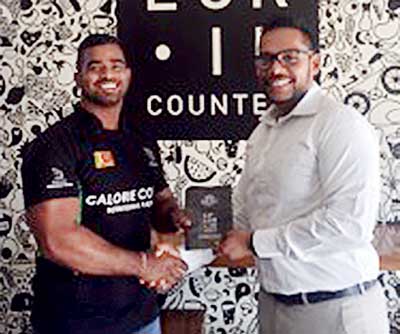 In a bid to encourage and support a new wave of emerging athletes in Sri Lanka, Calorie Counter will be endorsing a growing list of young sportspersons as their Nutritional Partner across a number of sporting events.

The first of these sponsorships has been awarded to 24-year-old Dhanushka Kodikara, the very first Junior Commonwealth participant and eventual gold medallist at the 2015 Commonwealth Powerlifting Championships in Canada. An all-round athlete during his collegiate years, Kodikara took to powerlifting about four years back and rapidly made his mark, winning silver medals at three consecutive national championships from 2013-2015. He also won the overall silver at the Indian Power Lifting Championships in 2014.

At the 2015 Commonwealth Powerlifting Championships, Kodikara went on to win four gold medals in the 83 kg junior weight category that also included the overall title, along with gold for the squat, bench press and dead lift.

In recognition of this astounding achievement, he was given Presidential Colours in Powerlifting. His next big event is the 2016 World Open Powerlifting Championships organised by the International Powerlifting Federation to be held from 13-19 November in Orlando, Florida, in the US. He goes into the tournament ranked 15th in the world in the 93 kg weight category.

"We are excited to be part of Dhanushka's journey in powerlifting as he transitions from the junior class to the open category, and we truly believe that we have an international-level athlete on our hands," Calorie Counter Founder Duaine Peiris said. "His dedication and commitment to his discipline epitomises what we at Calorie Counter wish to endorse. This has also given us the opportunity to bring more attention to certain sports and athletes who go unnoticed in Sri Lanka. They are equally talented and equally skilled and should be given an equal opportunity to represent Sri Lanka as any other sport that we favour." Dhanushka too is looking forward to overcoming the new challenge, moving from 83 kg to 93 kg, ready to compete with a larger age group of powerlifters in Orlando. "Nutrition plays a huge part in this kind of discipline, since we are competing against iron, and not another human counterpart. I am so grateful to Calorie Counter for stepping in as my first sponsor. I personally consider this sponsorship a massive blessing."

The restaurant chain has already teamed up with the biggest sporting brands in the country, Sri Lanka Cricket and Sri Lanka Rugby, to provide meals for the sportsmen on practice days. "We take pride in being able to stay true to the original message we shared when we established Calorie Counter: eat healthy, stay healthy," Duaine commented.

"To deliver the best in performance sports such as these, we need to ensure athletes are offered the best diet to supplement their rigorous routines. Calorie Counter is dedicated to providing Dhanushka and other sportspersons with the highest quality nourishment they truly deserve."

"I am grateful at the opportunity to represent Sri Lanka, and now I am looking forward to endorsing Calorie Counter on a global stage. This will show the world that a small country like Sri Lanka is indeed on the right track to doing big things."

Calorie Counter is a rapidly expanding health conscious restaurant chain that relates and meets the needs of a growing majority of the market looking for a healthier and convenient alternative to fast food. Focusing on great tasting, nutritious and high quality food, this brand is part of the consciously evolving personality most consumers are adopting worldwide. Visit www.caloriecounter.lk or the Calorie Counter Facebook page for more details.