Reuters: Sepp Blatter is set to face the media on July 20 for the first time since he announced last month that he would step down as president of soccer's governing body FIFA.

Blatter and secretary general Jerome Valcke will both take part in a media conference after an executive committee meeting which will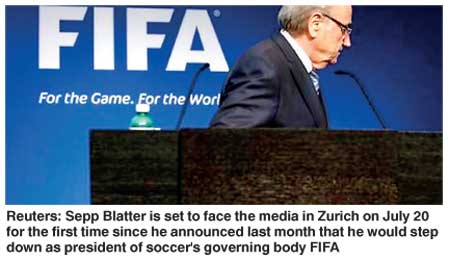 set the date for the extraordinary FIFA Congress and presidential election, FIFA said on Monday.

The 79-year-old was elected for a fifth term as FIFA president on May 29 but announced four days later that he would lay down his mandate and call a fresh election where he would not be a candidate.

The announcement came with FIFA in turmoil after 14 sports marketing executives and soccer officials, including several from FIFA, were indicted in the United States in late May on bribery, money laundering and wire fraud charges involving more than $150 million in payments.

Seven of those accused were arrested by Swiss police in a dawn raid on a luxury Zurich hotel two days before the FIFA Congress where Blatter was re-elected.

Since then, Blatter has given a handful of exclusive interviews to German-speaking media but has not spoken in public.