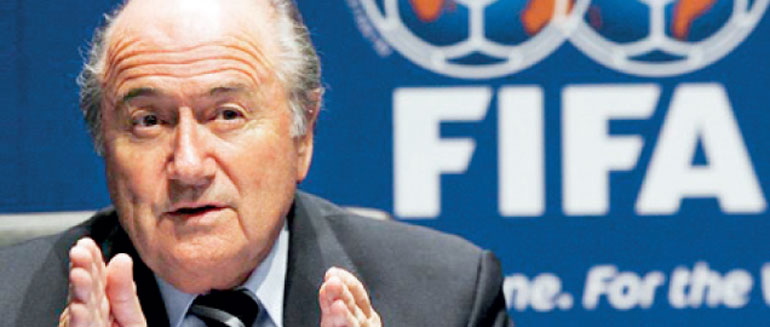 Reuters: Sepp Blatter may seek to stay on as the President of FIFA; a Swiss newspaper quoted an anonymous source close to Blatter as saying on Sunday. The report comes less than two weeks after Blatter resigned as head of the world soccer organisation.

The Schweiz am Sonntag newspaper said it had information that Blatter had received messages of support from African and Asian football associations, asking him to rethink his decision to step down. Blatter was honoured by the support and had not ruled out remaining in office, the anonymous source told the paper. FIFA did not immediately reply to an emailed request from Reuters for comment on the newspaper story. Blatter said on 2 June he would step down as FIFA president in the wake of a corruption investigation, having led soccer's world governing body since 1998. FIFA is expected to pick his replacement at an emergency meeting in Zurich in December. Blatter's renewed interest in the job was also a reason for the departure of Walter de Gregorio as FIFA's director of communications, since he had argued for a completely new start and advised Blatter to go, the Swiss newspaper said.

De Gregorio declined to comment to the newspaper.
Would like to return as FIFA sponsor: Emirates Airline President
Reuters: Emirates airline would be interested in renewing a deal to sponsor the FIFA World Cup once the scandal over corruption has been cleared up, the carrier's president said on Tuesday.

Emirates decided late last year not to renew its contract to sponsor the tournament, saying the deal was not meeting its expectations.


"A lot of it not meeting our expectations has been explained by what has been revealed," Tim Clark told reporters on the sidelines of the annual meeting of the International Air Transport Association (IATA).

FIFA President Sepp Blatter resigned last Tuesday, less than one week after Swiss police staged a dawn raid on a luxury hotel in Zurich and arrested several officials on corruption charges filed by US prosecutors in New York.

"I'm very glad that our name was not associated with it at this stage," Clark said.


He said that it was a tough decision for Emirates, which has other high profile sponsorships such as with soccer clubs Arsenal, AC Milan and Paris St Germain, to not renew the contract and that it would be interested in sponsoring the tournament again.

"I'd like to think that when it's all sorted out we get back in because it's great for us, we're so football orientated," he said.