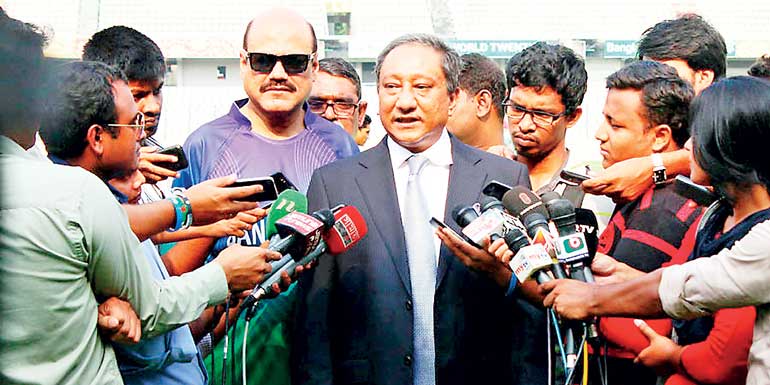 ESPNCricinfo: In what is likely to be a final effort to save the Bangladesh-Australia Test series, the Bangladesh Cricket Board said that Cricket Australia should factor the promised unprecedented levels of security before making a decision. The BCB is bracing for a message on the future of the series from CA on Thursday.

In the statement, BCB president Nazmul Hassan said that he has not give up hopes of the tour taking place after VVIP security, the kind provided to heads of states, was assured to the Australia team. Since the Australians declined to travel on 28 September, security and intelligence agencies in Bangladesh have gone out of their way to assuage the CA security team which was in the country earlier this week.

"We have left no stone unturned in providing assurance regarding security for the Australian team," Hassan said. "The Bangladesh government has committed to additional security on top of the substantial and elaborate arrangements in the BCB's standard Security Plan for international cricket. For the Australia team the level has been confirmed as VVIP which is equivalent to security accorded to head of states and is unprecedented for any international side.

"We are still hopeful that a fresh date for arrival of its team will be declared by CA and we will see some exciting cricket on the ground soon. The cricketers, fans and everyone associated with cricket deserve that. Risks of untoward occurrences and threats are an unfortunate reality in today's world and can happen anywhere. That is why we have placed utmost importance on preventive methods and action. We firmly believe that there is no reason for this tour to not go ahead after the extensive effort that has gone into the security arrangements."

The BCB said cricket teams visiting Bangladesh were given high priority by security agencies. It cited the example of the World T20 and the Women's World T20 hosted by the country last year where 26 teams took part two months after severe violence erupted across the country.

Despite all the efforts made by the BCB and the Bangladesh government, however, Australia have sent out enough suggestions in the last few days that indicate they could be pulling out of the tour.