Jordan's players celebrate their goal against Australia during their 2018 World Cup qualifying soccer match at the Amman International Stadium in Amman, Jordan October 8, 2015. REUTERS
AFP (Doha): Jordan shocked Australia 2-0 to go top of Group B while Qatar also scored an upset 1-0 victory over China in Group C to maintain their impressive run in the Asian World Cup qualifiers on Thursday (Oct 8).

In Amman, Hamza al-Daradreh was the star for the hosts as he earned a penalty and then struck late in the match to help Jordan beat Australia for the second time in World Cup qualifying, their previous win coming in 2012.

The Socceroos dominated the first half but failed to breach the Jordan defence before Hassan Abdel Fattah struck from the penalty spot immediately after the resumption following a foul on al-Daradreh by Matthew Sprianovic.

Australia strove hard to restore parity but it was Jordan who found the net again,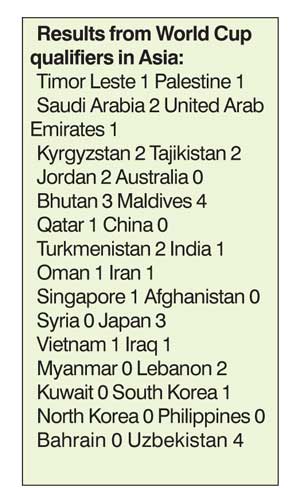 al-Daradreh scoring with six minutes remaining to put his team on 10 points from four matches.

In Doha, Karim Boudiaf was the hero as Qatar tightened their grip on Group C with a tense 1-0 victory that put them five points clear at the top. China's only hope now looks to be by qualifying as one of the four best runners-up from the current group stage.

Thursday's game saw a suitably cautious start but gradually Qatar gained control, notably through some fine surges down the right wing from fullback Mohamed Musa. Their breakthrough came when Boudiaf rose first to a free kick from skipper Hassan al-Haydos to glance the ball home.

Qatar were comfortable at this stage and it took China until the 29th minute to produce their first effort on goal. Gradually, though, China exerted a little more pressure and came close in the 44th minute when a diving header from Yu Dubao forced a fine save from Qatar's Claude Amin.

That set the tone for much of the second half with China increasingly pushing for an equaliser and Qatar looking ever more anxious to close the game out.

China, cheered on by a large number of fans in the 7,730 crowd at the Al Sadd Stadium, went closest through Yu Hanchao's fine volley in the 87th minute, which went narrowly wide.

Qatar could have made it 2-0 but Uruguay-born Sebastian Soria fluffed his chance when clean through on goalkeeper Ren Hang. Qatar coach, Jose Daniel Carreno, looked worried on the sidelines but his team held on for victory.

Hosts of the World Cup in 2022, Qatar are seeking to avoid becoming the first nation since Italy in 1934 to do so without ever playing in a finals beforehand.

In Muscat, World Cup regulars Japan beat Syria 3-0 to climb to the top of Group E with Keisuke Honda, Shinji Okazaki, and Takashi Usami netting for the Samurai Blue.

Honda put the Japanese ahead in the 55th minute with a penalty after Okazaki was fouled before Okazaki and Usami sealed the wins with goals late in the match.

Elsewhere in the tournament South Korea secured a narrow 1-0 win over Kuwait, while Uzbekistan thrashed Bahrain 4-0.

Only the winners of the group automatically progress to the next stage of qualification, where 12 teams will compete for four spots in Russia in three years' time.