Reuters: Australia handed James Faulkner a four-match suspension on Tuesday after the all-rounder was charged with drink-driving in Britain this month.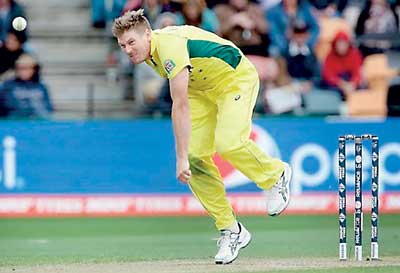 The player will miss a one-dayer and a Twenty20 international against Ireland next month as well as the first two ODIs against England in September.

"Faulkner has been charged under the code for conduct that is unbecoming of a representative," Cricket Australia (CA) said in a statement.

"Given he will be unavailable for a significant component of that series, Faulkner will not be considered for the Australian T20 or one-day international squads when announced in mid-August."

The 25-year-old, Australia's hero in their World Cup final triumph over New Zealand this year, may be considered as a replacement for an injured player following his suspension.

Faulkner, who was playing for English county Lancashire at the time of the incident, will also undergo an alcohol management counselling program.

"James has acknowledged the seriousness of his actions and has accepted the penalties handed down today," CA executive general manager of team performance Pat Howard said.

"He has co-operated fully with the disciplinary procedure and is deeply remorseful.

"In saying that, we do acknowledge that James has been a player with a good track-record and we would like to think that this episode is very much out of character."
---
Defeated Australia turned down post-match beer with England
A sore and defeated Australia turned down an invitation from England to share a post-match beer after the tourists' humbling loss in the first Ashes test in Cardiff, paceman James Anderson said.

Captain Alastair Cook was rebuffed by Australia skipper Clarke after England's 169-run win on Saturday, though the match was played in good spirit.

Anderson said England and New Zealand had shared a drink after each hard-fought match of their drawn test series earlier in the summer and Cook had wanted to continue the ritual with Clarke's team.

"It was Cooky's idea and he went and asked them after the game," Anderson told British media.

"We were all happy to do it. I don't know why they didn't come in. Maybe they wanted to carry on doing things their way. You'll have to ask them. It's their prerogative.

"We had a beer with the New Zealand team after both tests and we found it an enjoyable thing to do after a hard test.