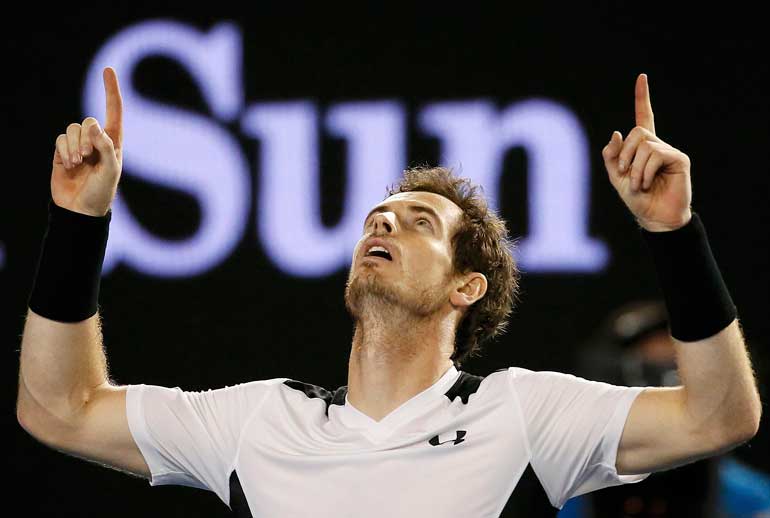 Nick Kyrgios of the Australian Green team hits a return against Andy Murray of Britain during their eighth session men's singles match on day four of the Hopman Cup tennis tournament in Perth - AFP
Nick Kyrgios beats Britain's Andy Murray

AFP: Controversial Australian Nick Kyrgios recorded one of the best wins of his career to upset world number two Andy Murray and lead Australia Green to victory over Great Britain at the mixed teams Hopman Cup in Perth this week.

Although Heather Watson then levelled the tie with a brave comeback victory against newly naturalised Australian Daria Gavrilova, the home team secured the tie when they won a thrilling mixed doubles encounter in a tense match tiebreak, 6-2, 6-7 (0/7), 11-9.

Unbeaten in their first two group matches, the pairing of Kyrgios and Gavrilova only need to beat France, who are out of contention after losing both their ties, on Friday to advance to Saturday's final.

Fittingly, it was Kyrgios who served an ace to seal the mixed doubles win, after the 20-year-old notched a breakthrough win over Murray in the singles, 6-4, 7-6 (7/5).

The richly-talented Kyrgios is coming off a contentious 2015, including his infamous on-court spat with Stanislas Wawrinka, but has looked in impressive form in his two singles matches in Perth.

He beat rising German star Alexander Zverev on Sunday, and overcame a verbal clash with a fan in the second set against Murray to notch his first win in five matches against the Scot.

It also ended Murray's 11-match winning streak in team's tennis, including last year's Davis Cup final, and the world number 30 said it was one of his best wins.