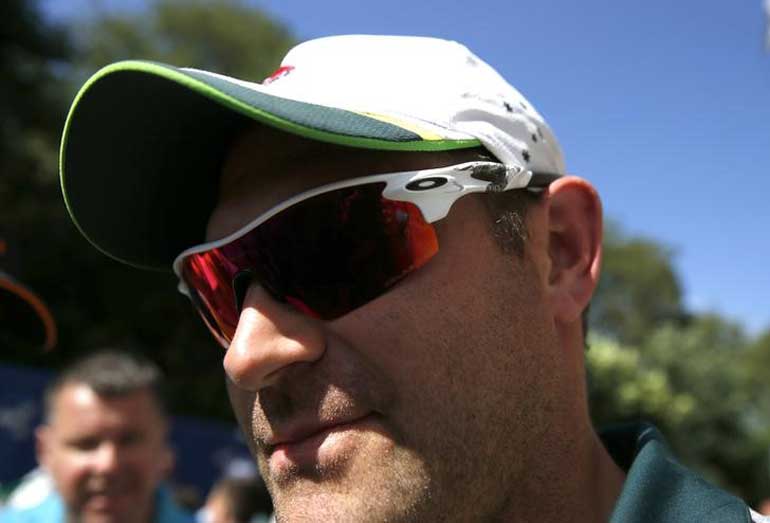 Australia's Ryan Harris
Reuters: It was a brief, late-life test career that always seemed to be a match-at-a-time proposition but paceman Ryan 'Ryno' Harris made a crucial contribution to Australian cricket at a critical time.

The cracked right tibia that ruled him out of the Ashes series on Saturday finally convinced Harris to call time on a career that took him from a journeyman medium pacer to the very top of the game.

His test career started in 2010 when he was already 30 and if he was only able to squeeze 27 matches out of his battered body, he made the most of his time in the sun with 113 wickets at the cost of 23.52 runs apiece.

It was, as his captain Michael Clarke pointed out, a record that would rank him among the best bowlers to have worn the baggy green but only part of the reason for his huge popularity.

Harris possessed the virtues that Australian sports fans like to think they hold dearest – modesty, joviality, grit, doggedness and determination.

He took five-wicket hauls five times but it was his four for 32 in the second innings of the third test against South Africa in Cape Town last year that may have been his finest hour.

The Proteas looked like saving the match and the series – skipper Graeme Smith's last – when Clarke tossed the ball to Harris to test his creaking knee with a 47th over of the match.

He never completed it. Dale Steyn was undone by a yorker with the first ball and Morne Morkel bowled with the third to give Australia a famous 245-run win and a 2-1 series triumph.

Harris returned home for the knee surgery he hoped would allow him to play on and defend the Ashes he had played a major role in Australia winning with a series sweep in 2013-14.

It was in the first Ashes series in England earlier in 2013 that Harris established himself beyond doubt as Clarke's "go-to" man.

Shorter and stockier than most of his colleagues in the modern pace bowling fraternity, Harris had always generated deceptively good pace and could swing the ball both ways.

The chronic knee problem, a left ankle fracture, a hamstring strain, a shoulder problem, a back strain, hip pain and a tender Achilles, however, had restricted him to just 12 tests in three years until he got on the plane to England.

He played four of five matches in the lost series and somehow managed to put together a run of 12 consecutive tests over the next seven months to take Australia back to the top of the world rankings.

Australia stocks of quality pace bowlers are now healthier than they have been for years but Clarke might still miss the man who, the captain said, would 'run through walls' for his team.