By Shamseer Jaleel

The Sri Lanka Fifteens rugby outfit will have to overcome stern tests from Malaysia, the UAE and Philippines if they are to receive promotion into the top 3 of Asia in 2018.

In the previous event Sri Lanka was placed second behind Malaysia, who had a starting line-up full of Fijians. Sri Lanka will be led by former Kingswood College player and Kandy skipper Roshan Weeraratne, who retained his leadership in the longer version of the game. He made his debut in 2010 at the Asian Five Nations rugby tournament. This will be an emotional tournament for Weeraratne, with his school and club mate Fazil Marija retiring from national duty on 20 May.

Earlier the tournament was known as the Rugby Asiad, before later being renamed the Asian Rugby Championship which was based on a promotion-relegation system whereby countries were grouped into various divisions and based on their performances the winners were promoted while those placed at the bottom of the standings were demoted for the following year's event.

Sri Lanka finished third in 2008, a year in which Singapore were promoted to the Asian 5 Nations event. In the following year too Sri Lanka and Taipei retained their Division I position with the UAE moving up the ladder.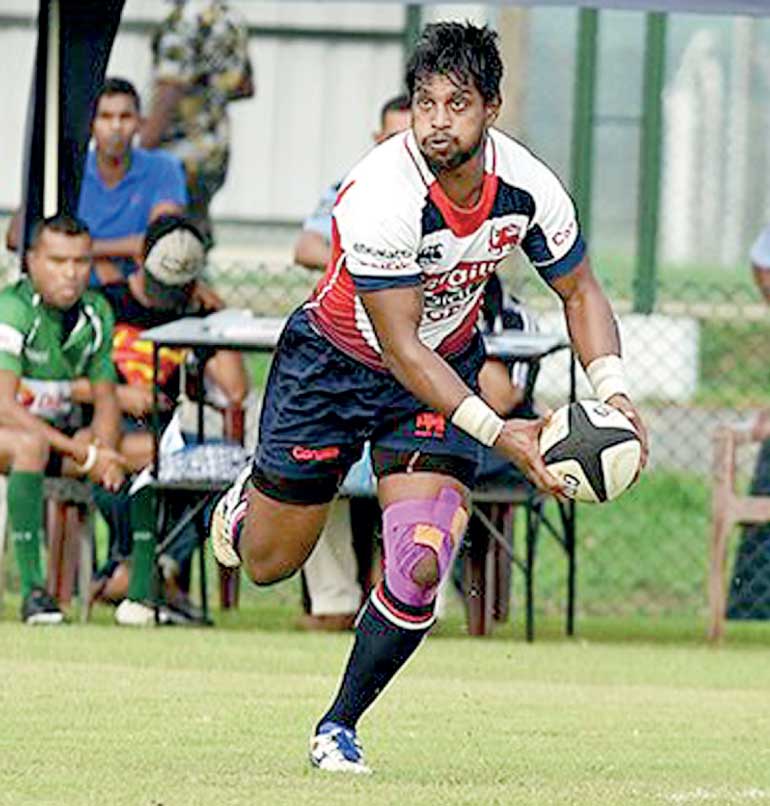 In 2010 Sri Lanka finished champions, thus gaining promotion into the Asian Five Nations Top 5. The outfit was led by Pradeep Liyanage with Johan Taylor serving as the Head Coach of the outfit. Sri Lanka beat Taipei 35-7 and Singapore 23-16.

In the history of the Rugby Asiad, Sri Lanka emerged second to Japan after hosting it in Colombo back in 1974. The Sri Lankan outfit was led by present-day Central Bank Governor Indrajit Coomaraswamy. Once the Sri Lanka Rugby Football Union (SLRFU) hosted the tournament in 1990 at the Sugathadasa Stadium. After the format changed, Sri Lanka won Division I in 2010, 2013 and 2015. Furthermore, it ended second in 2012 and 2016.

Sri Lanka is also the only country other than the top 3 countries of Japan, Hong Kong and South Korea which has not been relegated from Division 1 since the inception of this new annual tournament structure.

Shockingly, from the 31 players, top performer in club rugby number 8 Radeesha Senaviratne (Police SC), Damith Dissanayake (Kandy SC), Gayan Jayamanna and Sashan Mohamed (CR&FC), Stefan Gregory (Navy SC) and Sudam Sooriarachchi (Havelock SC) were left out and will be non- touring standby players.

Tariq Salih (CR&FC), Ashan Darling, Nishon Perera, Umesh Madhushan (all from Havelock SC), Joel Perera (Police SC), Thilina Wijesinghe (Kandy SC), Richard Dharmapala (Kandy SC) and Richie Dharmapala (Navy SC) will be making their Fifteens rugby debut for the country.

Touring squad

Roshan Weeraratne (Captain), Fazil Marija, Danushka Ranjan, Lavanga Perera, Richard Dharmapala, Jason Dissanayake, Thilina Wijesinghe, Ganuka Dissanayake and Sayuru Anthony (All from Kandy SC), Dushmantha Priyadarshana, Sharo Fernando, Prasath Madusanka, Umesh Madhushan, Ashan Darling, Nishon Perera, Niroshan Fernando (All from Havies), Sajith Saranga, Sathya Ranatunga, Chanaka Chandimal , Lee Keegel and Richie Dharmapala (all from Navy SC), Omalka Gunaratne, Tariq Salih (both from CR & FC), Asoka Jayalal (Army SC), Joel Perera (Police SC)
Head Coach - Fereti Verebula
High Performance Director - Inthi Marikar
Trainer - Nick Golbe
Manager – Rohan Chinthaka
Asia Rugby Championship Division I schedule
May 14 - Sri Lanka vs. Malaysia
May 17 - Sri Lanka vs. the Philippines
May 20 - Sri Lanka vs. the UAE