AFP: The Asian confederation Thursday reiterated its backing for Sheikh Salman bin Ebrahim al-Khalifa of Bahrain to succeed disgraced Sepp Blatter as president of world football body FIFA.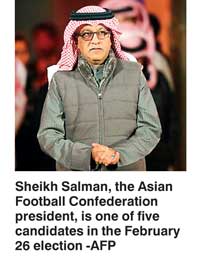 Sheikh Salman, the Asian Football Confederation (AFC) president, is one of five candidates in the 26 February election.

Richard Lai, AFC's marketing committee chairman from Guam urged member associations to vote for its president.

"Our vision is One Asia, One Goal. Our goal is a united Asia and to demonstrate that we must unite behind our president in the FIFA election," Lai said.

"At present Asia has two candidates for the FIFA Presidency. We must unite behind the one who will deliver these reforms and that is the AFC president," he added.

The other Asian contender is Prince Ali bin al Hussein, the 39-year-old brother of Jordan's King Abdullah.

The AFC executive committee had already said it would endorse Sheikh Salman at its previous meetings in New Delhi and in Doha.

"Thanks to that encouragement I have been able to enter this election with the overwhelming support of my Confederation, and that is clearly a massive help in my campaign," the AFC boss had said previously.