Reuters: Asian football said it was looking forward to working with new FIFA President Gianni Infantino, despite the region's two candidates losing out to the Swiss in Friday's election, and called for unity to help push the reform process forward.

Infantino beat Asian candidates Sheikh Salman bin Ebrahim Al Khalifa of Bahrain and Jordan's Prince Ali Bin Al Hussein, as well as Frenchman Jerome Champagne, to succeed Sepp Blatter in the vote at FIFA's Congress in Zurich.

The scandal-hit governing body is in the midst of the worst crisis in its 112-year history, with more than 40 individuals and entities, including many former FIFA officials, charged with corruption-related offences in the United States.

However, the election marked an opportunity to begin the long road back to restoring its reputation, said Football Federation Australia chief Steven Lowy.

While Australia had come out in support of Prince Ali ahead of the vote, Lowy described the election as 'the best day FIFA has had in many years'.

"The mood for change was in the air and the Congress voted overwhelmingly to move forward with a new structure and new leadership to implement it," he said in a statement on Saturday.

Lowy added that he and FFA Chief Executive David Gallop had been impressed by Infantino in previous meetings.

"David Gallop and I have met him several times in the past few months and have been impressed with his knowledge, his energy and his determination to lead FIFA into a new era," he added.

"We will now move forward to continue playing a productive role as a member of the Asian Football Confederation and the world football community."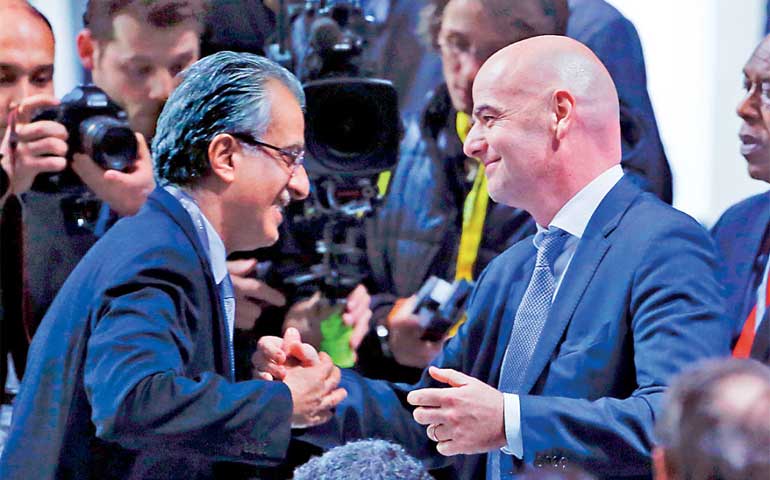 FIFA presidential candidate Sheikh Salman Bin Ebrahim Al-Khalifa of Bahrain (left) congratulates newly elected FIFA President Gianni Infantino during the Extraordinary Congress in Zurich, Switzerland 26 February


While the Arab region rued yet another squandered chance to help elect their first FIFA president after their two candidates failed to cooperate, Sheikh Salman, President of the AFC, called for unity to help move the reform process forward.

"The AFC looks forward to working with the new-look FIFA and its new President Gianni Infantino in order to reform the world football governing body and to reinstate football's credibility globally," he said on the AFC's website.

"The new FIFA needs to become more inclusive and reflect the diversity of world football. I trust Gianni Infantino will provide the leadership to achieve this, as well as the rest of the reforms that are now urgently needed."

Former FIFA presidential candidate Chung Mong-joon, who pulled out last year after being hit with a six-year ban from the game, congratulated Infantino and looked forward to the Swiss bringing about 'fundamental reform'.

"I hope that the newly elected president is an impetus for FIFA to regain its honour and to give hope and happiness to numerous soccer fans," the South Korean said in a statement on Saturday.
Infantino promises 'to bring FIFA back to football'
Reuters: Selected quotes from Swiss Gianni Infantino's first news conference after the former UEFA general secretary was elected president of scandal-hit world soccer's governing body FIFA on Friday:

"I will work tirelessly to bring football back to FIFA and FIFA back to football, this is what we have to do.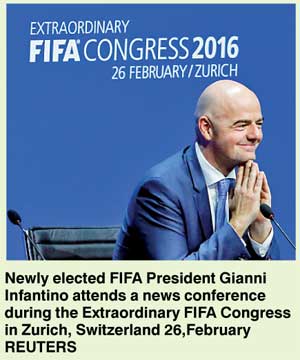 "I am feeling a lot of emotion and have not fully realised yet what has happened today. It is still very fresh and it's been a long and exciting journey and I probably need some time to chill out and see what has happened.

"I would like to see a big development of football all over the world. I want to see the Caribbean League playing, academies in Africa, kids playing in Oceania. "I want to see football growing all over the world and people looking at FIFA as the organisation that helps each country in the world to develop football. "I want to look in the eyes of kids who are smiling because they have a ball to play with. "A new era is starting for FIFA as we speak. I will approach the commercial partners, the sponsors who need to regain their trust in FIFA, and if we can achieve this with our way of working then revenue streams will increase and we will not have to worry at FIFA.

"UEFA did not go bankrupt at all, revenues increased even when the economy was rather dire."

On who his general secretary would be, Infantino said: "We don't need to talk about that today because it will be the decision of the FIFA Council following the new statutes. "But I want to have a very strong general secretary. I said if the president is me it will not be a European but we will look around and see what is the best choice for FIFA and football.

"I thank (banned UEFA president) Michel Platini for everything he has taught me and given me and the work we have done together. I have strong, dear thoughts for Mr Michel Platini right now."

Referring to suggestions many African countries voted for rival candidate Sheikh Salman bin Ebrahim Al Khalifa of Bahrain, Infantino said: "It was a competition not a war, it was an election ... you win, you lose.

"I personally have very good relationships with persons in Africa, Oceania, CONCACAF, CONMEBOL. "The election has taken place, we have turned the page. I am not a candidate of Europe, I am a candidate of football and football is universal. "I don't speak about politics, barriers and divisions. We can focus on football and develop football everywhere in the world."