NEW DELHI(Reuters): At 45, Brad Hogg is almost an anachronism in the youthful world of Twenty20 cricket but the Australian chinaman bowler continues to prove he still has what it takes to be successful.

Hogg, with his tongue-out action, was the pick of the Kolkata Knight Riders' bowlers in Sunday night's nine-wicket Indian Premier League (IPL) victory against Delhi Daredevils, returning 3-19 with four tidy overs of unorthodox left-arm spin at Eden Gardens.

The ageless Australian teased PawanNegi and Sanju Samson with flight before dismissing both and went on to deceive Amit Mishra with a googly.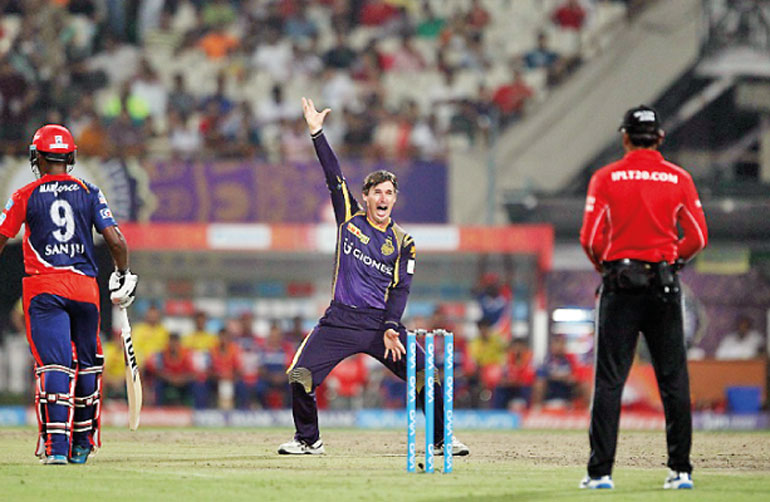 Brad Hogg claimed 3 for 19 in four overs, Kolkata Knight Riders v Delhi Daredevils, IPL 2016, Kolkata, April 10, 2016 - BCCI


Samson was not even born when Hogg made his first class debut in early 1994, while Negi was in diapers.

Yet another Australian spinner destined to spend much of his career in the shadow of the great Shane Warne, Hogg retired from international cricket in 2008 after seven tests and 123 one-dayers.

His child-like enthusiasm, however, never left him.

Cricket's shortest format gave his career a second wind and Hogg made a surprise return to Twenty20 Internationals in 2012 via the Big Bash League at the ripe old age of 40.

The dream to play this year's World Twenty20 did not materialise but the Australian's exploits in Sunday's IPL match has, once again, prompted the 'old-is-gold' cliché.

Hogg was in the thick of things on Sunday, claiming three wickets, taking a skier and even mimicking, on commentators' request, his habit of sticking his tongue out when bowling.

"I'm coming close to the other end of my life, so I got to enjoy as much," the spinner told the tournament website.

"I've really enjoyed it. The game of cricket has given me so much. Hopefully, when my career does finish, I can give a lot back."

Hogg knows he owes his durability equally to his undying passion for the game and his tremendous fitness.

"I'm very lucky that physically I can do it. It's nice to wake up in the morning and find I'm not sore," he said.

"I'm very fortunate to be here. I think the secret is you got to be healthy, that's the number one thing in life."

While he knows he cannot go on forever, Hogg has banished retirement thoughts and would rather focus on helping his team win a third IPL crown.

"I just want to go on as long as I can," he said.

"I retired in 2008, was out of the game for three years, didn't pick up a bat or ball for a while. Then when I came back, I realised how much I missed it."