Singer-the Sunday Times Most Popular Schoolboy Ruggerite of the Year 2017
It looks like Avishka Lee and his team Wesley College are not going to cross that tryline as easily as predicted after all. Lee and Wesley are now targeted by the S. Thomas' College unit and its player Aabid Cader, as the Singer-the Sunday Times Most Popular Schoolboy Ruggerite of the Year and Most Popular Rugby Team of Year 2017 competitions competes its 12th week.

Lee obtained 211 votes last week, that took his tally to 3340 but the threat is now visible in Aabid, who received 1750 votes and romped to the second slot with just three more weeks to go. This took Aabid's total from 789 to 2539 as the deficit between him and Lee is placed by 801 votes.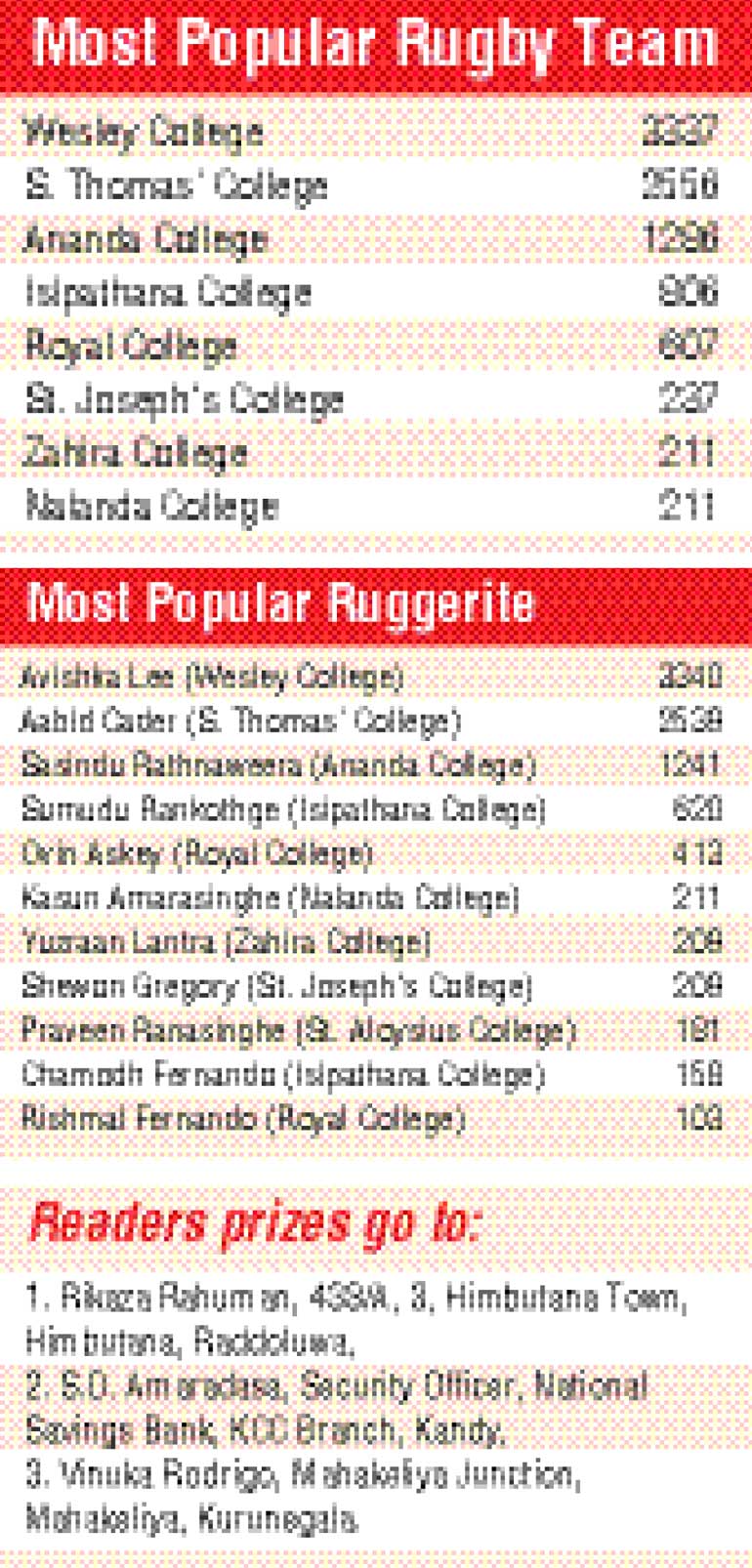 Aabid's progress pushes down Sasindu Rathnaweera of Ananda College from second to third. His tally now reads as 1241 after receiving 113 votes during the ended week but is way behind his immediate rival Aadib, by 1298.

Sumudu Rankothge, the Isipathana College skipper, automatically slips down to third place with a tally of 620 while Royal College skipper Ovin Askey is pushed down to fifth place in the process.

In the team competition Lee's side, Wesley continues to lead with 3337 votes while S. Thomas' romped to secure the second place with 2556 votes. Ananda was pushed down to third place but stands well ahead of Isipathana and Royal, who are at fourth and fifth positions respectively.

The competitions, which enables readers to vote for their most preferred school Rugby player of the ongoing Singer Schools Division I Rugby League Championship 2017, will run until 30 July.

From 23 April, the Sunday Times, along with Wijeya Newspapers publications – Daily Mirror, Daily Lankadeepa and Ada – will publish coupons for 15 continuous weeks, numbered for each week from 1 to 15 with the deadline set on Thursdays of each week. Names of players shown in the list are those with 30 and above votes.