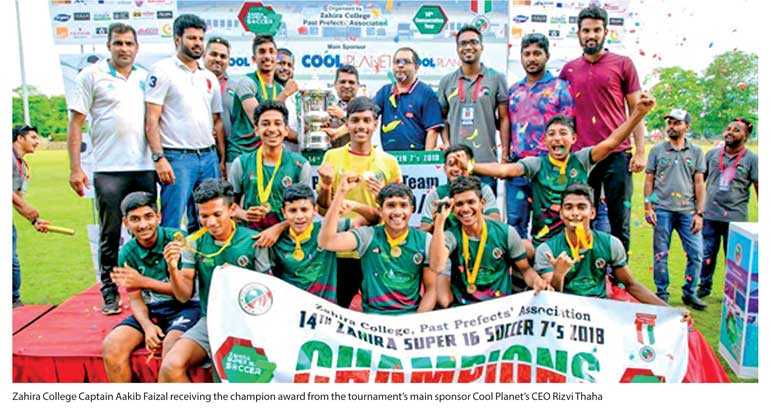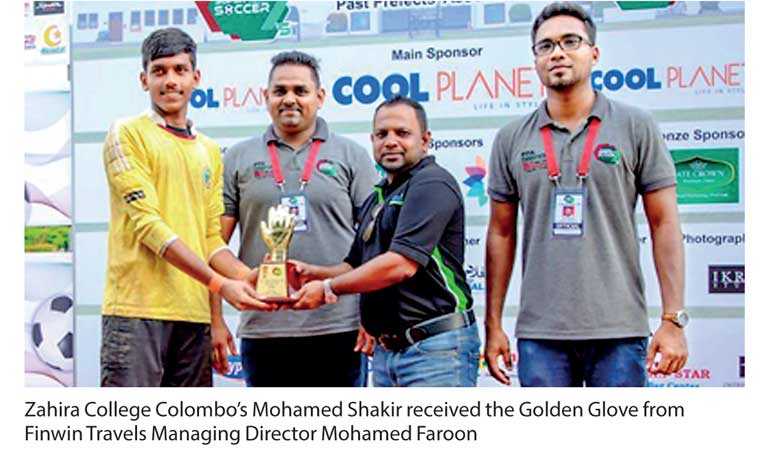 Text and Pix by Ruzaik Farook

The Past Prefects Association of Zahira College Colombo organised the Super 16 Soccer 7s Championship for the 14th consecutive at the Racecourse Grounds in Colombo recently.

This tournament was recommended by the Educational Ministry and the Football Federation of Sri Lanka.

Sixteen leading schools from the country took part in this prestigious competition. They were De Mazenod College Kandana, Gateway College Colombo, Hindu College Colombo, Isipathana College Colombo, Lumbini College Colombo, Lyceum International School, Manipay Hindu College Jaffna, Maris Stella College Negombo, Nalanda College Colombo, Royal College Colombo, St. Benedict's College Colombo, St. Joseph's College Colombo, St. Peter's College Colombo, Wesley College Colombo, Zahira College Gampola and Zahira College Colombo.

In the final Zahira College Colombo beat Gampola Zahira College 2-1 and clinched the champion award. Zahira College Captain Aakib Faizal received the award from the main sponsor of the tournament Cool Planet's CEO Rizvi Thaha.

The Plate Championship was won by St. Joseph's College and the Bowl Championship was claimed by Royal College Colombo.

Zahira College Colombo's Mohamed Shakir received the Golden Glove Award from Finwin Travels and Tours Managing Director Mohamed Faroon, Manipay Hindu College Jaffna's Thileikanthan received the Golden Boot from Zahira College OBA President M.U.M. Azmi and Zahira College Captain Aakib Faizal received the Most Valuable Player award from May Flower Holdings Managing Director Fuard Rumy.

Zahira College Principal Trizviiy Marikkar, Past Prefects Association President Shameek Samsudeen, Secretary Razmi Rafeek, Project Chairman Afzar Arham and members of the association were also present.