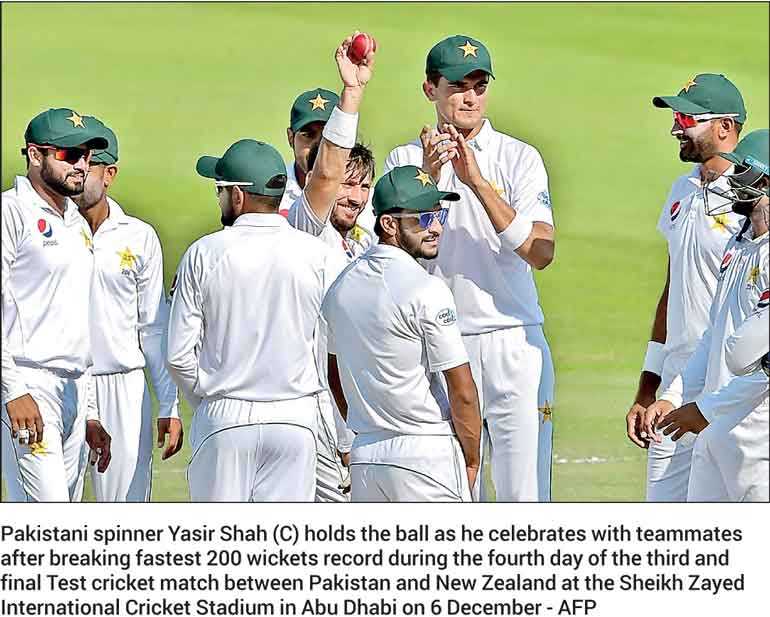 ESPNCricinfo: On the fourth morning of the final Test in Abu Dhabi against New Zealand, Yasir Shah did not merely break an 82-year-old record, he smashed it.

By dismissing William Somerville roughly half an hour into the morning, he picked up his 200th Test wicket in just his 33rd Test. That breaks the record for the fastest to 200 Test wickets, so long held by another legspinner, Clarrie Grimmett who reached the mark in his 36th Test.

The wicket came in trademark Yasir style, the key to it the pace at which it was bowled, breaking a little but hurrying onto Somerville's pads. The batsmen had a discussion, but ultimately decided not to take a review.

By then Yasir had already been engulfed by his team-mates, performing the sajda in the process of acknowledging the landmark. As has been the case with so many of Pakistan's greatest moments in the UAE, barely a handful of people were present at the ground to witness it.

Given his form in this series it was inevitable Yasir would break the record at some point during the Test. And on the first day it looked as if he would have it wrapped by the afternoon. He took three quick wickets in the hour before lunch as New Zealand slipped from 70 for 1 to 72 for 4. But he was to pick up no more in that innings, Bilal Asif instead ending up with a five-for.

Already his 27th wicket of the series, with more batsmen to come, he could also break another Pakistan record, for most wickets in a three-Test series. That has been held by another legspinner, Abdul Qadir who took 30 wickets against England in 1987-88.

As well as being the quickest to 200, Yasir was the joint second-fastest to 100 Test wickets (in 17 Tests) and the fastest Pakistani to 50 Test wickets (in nine Tests).