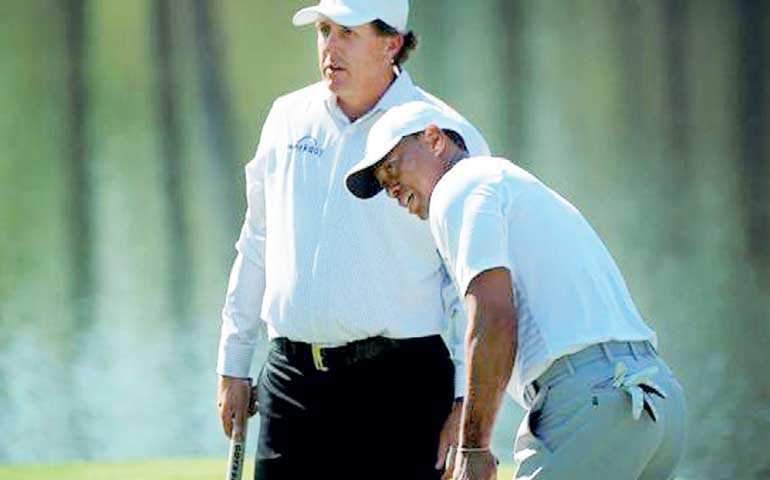 FILE PHOTO: U.S. golfers Tiger Woods (R) and Phil Mickelson stand on the 16th green during the second day of practice for the 2018 Masters golf tournament at Augusta National Golf Club in Augusta, Georgia, U.S. April 3, 2018. REUTERS/Brian Snyder/File Photo
Reuters: Tiger Woods' and Phil Mickelson's mediocre Ryder Cup records did not stop United States captain Jim Furyk from adding the duo to his team on Tuesday for this month's showdown with Europe.

Woods has played on only one victorious Ryder Cup team (1999) in seven appearances, an astonishing number for one of the game's all-time greats.

Mickelson, although he has been on the winning team three times, has been on the losing end all five times that he has been on the visiting side.

There were no surprises when Furyk revealed his three captain's picks in Philadelphia, with in-form 24-year-old Bryson DeChambeau, winner of the past two events on the PGA Tour, chosen along with the seasoned Woods and Mickelson.

The US will defend the Cup at the Sept. 28-30 event against Europe at Le National in Paris.

Furyk said the trio were chosen with the venue in mind.

"We're heading over into foreign soil. It's going to be an interesting crowd," Furyk said. "They are boisterous, I have a lot of respect for them, and we are looking for players that we thought would handle that situation well and would thrive, love the challenge ahead of them, and naming these three players, that's what we've done."

Furyk heaped particular praise on 14-times major champion Woods, who will now relinquish his role as a vice-captain.

"It's been great to have his help and to get a little feel of one of the best minds in the history of the game on your side helping you out," he said. "We're all excited to see him healthy again, to see his game playing so well."

Woods, 42, will return after missing the past two Ryder Cups with a persistent back injury.

"I haven't been part of the team playing-wise for six years," Woods said. "This year to have the honour of being able to play again is beyond special. This team is young, full of guys in their 20s. We've got an unbelievable veteran leader in Phil who's been around the Ryder Cup since before some of these guys were born. It's a great mix of guys."

Woods has a pedestrian Ryder Cup record of 13 wins, 17 losses and three halves, though he has been stellar in singles, losing only once, on his debut in 1997.