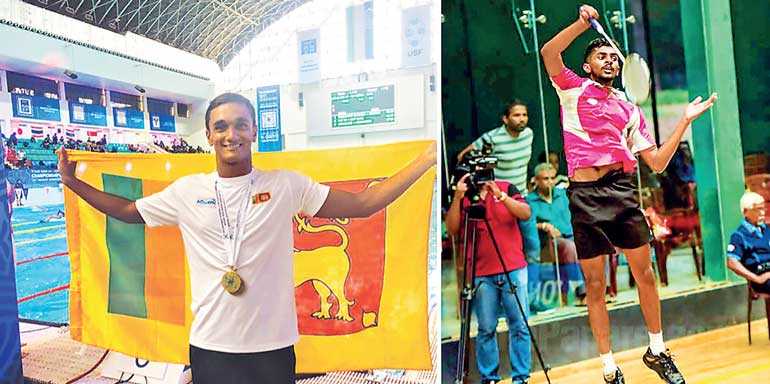 In furtherance of its commitment to building a dynamic nation, Alliance Finance is sponsoring two promising young athletes who are representing Sri Lanka at the Commonwealth Games that is on right now.

The sporting careers of 22-year-old badminton star Sachin Dias and 18-year-old swimming sensation Akalanka Peiris are being supported by this well respected finance company. They are now in Gold Coast, Australia for the 21st edition of the Commonwealth Games. Both have expressed their deep gratitude for the backing they are receiving.

Sachin is now one of Sri Lanka's top sportsmen. But it will not be an easy task to compete against the likes of Indian, Malaysian and English players. Sri Lanka is yet to clinch a medal in badminton outside South Asia and to win one would require an extraordinary effort.

But Sachin has been through strenuous training and vows to give it his best shot. He admits that he could not have overcome personal difficulties without the assistance of Alliance Finance, which took him under its wings in 2013. Born to a family of modest means, his parents made considerable sacrifice to help him climb to the top ranks of the local badminton scene.

Sachin's father, a carpenter, borrowed money to support his training and overseas travel. But Alliance Finance soon took over the burden of foreign trips, training and nutrition, helping him gain valuable international exposure at no cost to his family.

Today, he counts among his international medals, Silver and a Bronze from the last South Asian Games and the first Bronze medal to Sri Lanka from the Youth Olympic Games held in China in 2014. In keeping with the social impact and value system at Alliance, his future and career goals have also been carefully thought of through a grooming program where he will be guaranteed employment at Alliance.

Akalanka was just three when his father helped him into the water. He has been unstoppable since and at the age of seven, he was placed third at the National Age Group Swimming Championship. He is now the undisputed champion in his age group. He has competed successfully in foreign meets, winning a gold medal in the 100m backstroke at the 6th International Sports Games in Russia. He also scored two silver medals at the 5th Asian School Games.

As with Sachin, such exposure helped Akalanka mature as a swimmer. But behind his victories too, is a regimen of rigorous training. He swims at least 10kms a session, or 100kms a week. His day starts at 4.50am and he rushes to school afterwards.

Akalanka is a shining example of how a balance can be struck between studies and extracurricular activities. A student of St. Peter's College, Colombo 4, he earned nine As at his GCE Ordinary Level Examination and is today studying commerce in preparation for his GCE Advanced Level Examination. He is simultaneously sitting his London A/Levels in the maths stream. He will also be offered full time employment at the end of his swimming career.

Akalanka's career is ably supported by Alliance Finance, an institution with a long presence in the country. "Swimmers need more financial support in order to take part in foreign competitions," he said. "I'm really thankful for the backing I'm getting from Alliance Finance. We need companies like them to help athletes like me excel in sport."

Alliance Finance has a long history of a triple bottom line orientation. The sports sponsorship of these two young stars is one of several such social initiatives aimed at powering the next generation who are undoubtedly the future of a dynamic nation.