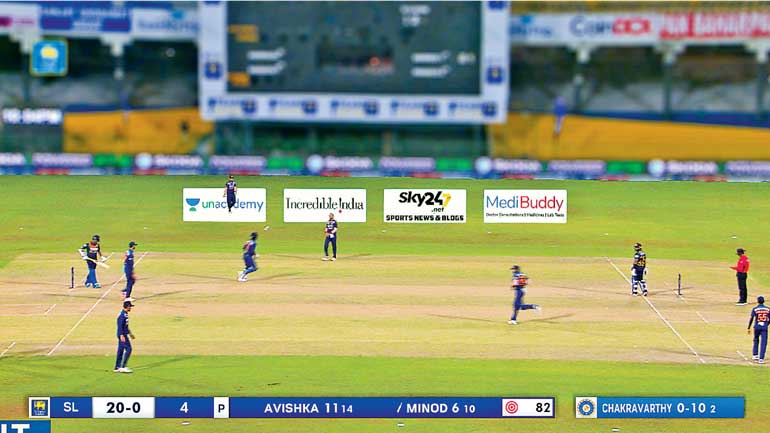 ---
Winfield Sports Ltd., with a 22-year pedigree, Sri Lanka's premier sports branding and marketing organisation, delivered another first groundbreaking commercial 3D VR (Virtual Reality) signage branding during the recently concluded Indian ODI and T20I series in Sri Lanka.

It successfully tested 3D VR during the Nidahas Trophy Tri Series in March 2018, Bangladesh tour of Afghanistan in Dheradun, India in June 2018 and the ICC Women's T20 WC, Antigua, West Indies in November 2018.

The highlight of Winfield Sports' journey thus far has been the International Cricket Council (ICC) engaging its services directly to deliver 3D painted signs during the ICC MT20 Qualifiers 2019 in the United Arab Emirates – October to November 2019 at two key International Cricket Stadiums. Winfield Sports Ltd. is the first and only company in Sri Lanka to be engaged for an assignment of this nature by the ICC and needless to mention this is a big feather on its cap.

It is a team of committed and passionate young robotic engineers who settle for nothing but the best. Six years of tireless days and nights of research and development (R&D) is the result of presenting a truly and perfect 3D VR technology. Winfield VR is a 100% home integrated technology. Winfield Sports Ltd. continues to improvise and include other finer points in taking this technology to the next level.

3D VR technology is not limited to cricket but any other sport including other live or pre-recorded events.

Above all, 3D VR signs far overweigh the benefits of 3D painted ground signs. Some of the key advantages are, the opportunity of being able to replace signs at periodic intervals during the same match which benefits sponsors with multiple brands wanting to advertise during the same event, the possibility of placing a total of eight or nine signs at the near and far ends, less resource requirement for 3D VR, there is absolutely no harm or damage to the grass on the ground resulting it been environmentally-friendly, there is no impact due to adverse weather, no danger or hindrance to players and adds value to the ground right holders, broadcasters and sponsors.

Winfield Group of Companies was established in 1999 and Winfield Sports Ltd., is a subsidiary of the Group. Winfield Sports is the only vertically integrated sport branding and marketing entity in Sri Lanka. It is a truly local company with an international footprint and has worked across in markets such as India, Bangladesh, Pakistan, United Arab Emirates, Ireland, and the West Indies.