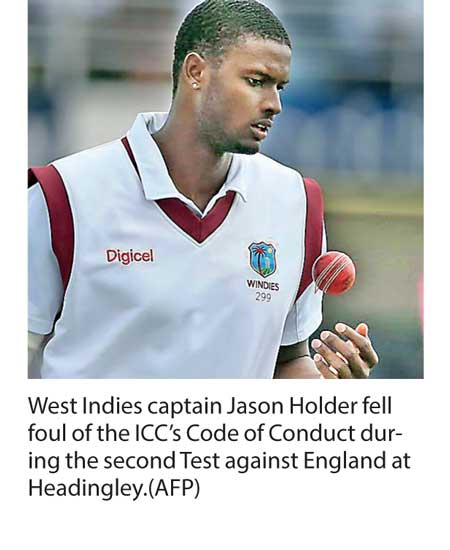 AFP: West Indies captain Jason Holder has received an official reprimand for venting his frustration at a dropped catch during the ongoing second Test against England at Headingley, the International Cricket Council announced Tuesday.

The all-rounder fell foul of the global governing body's code of conduct during the 70th over of England's second innings on Monday when Dawid Malan, then on 32, was dropped in the slips by Kieran Powell off his bowling.

An ICC statement said paceman Holder had "twice made inappropriate comments in frustration which were audible enough to be heard by both the on-field umpires".

As such he was ruled to have committed that section of the code of conduct which relates to "using language or a gesture that is obscene, offensive or insulting during an international match".

One demerit point has now been added to Holder's disciplinary record after he admitted the offence and accepted the sanction proposed by match referee David Boon, the former Australia batsman.

If Holder reaches four or more demerit points within a 24-month period, they will be converted into suspension points and he will be banned.

Two suspension points equate to a ban from one Test or two one-day internationals or two Twenty20 internationals, whatever comes first for the player.

Earlier in the match, England all-rounder Ben Stokes received a similar punishment from Boon when his "obscene" language was picked up on the stump microphone after he was edged for a boundary by Shai Hope.

But former England captain Michael Atherton, commentating on Sky Sports, labelled that decision "ridiculous".

"Stokes is no angel and has got himself into plenty of scrapes - but he wheeled away and swore to himself," said Atherton.

"I have no problems if the match referee intervenes if any player swears at or abuses an opponent but swearing to yourself at the end of the day?

"You've got to give players leeway.

"David Boon might just say he is following protocol and he probably is, but the protocol has to be changed."

Malan, one of several England batsmen dropped in this match, went on to make 61 in a total of 490 for eight declared.

West Indies will start Tuesday's fifth and final day needing a further 317 runs to reach a victory target of 322, while England must take 10 wickets if they are to go an unbeatable 2-0 up in this three-match series with one to play.