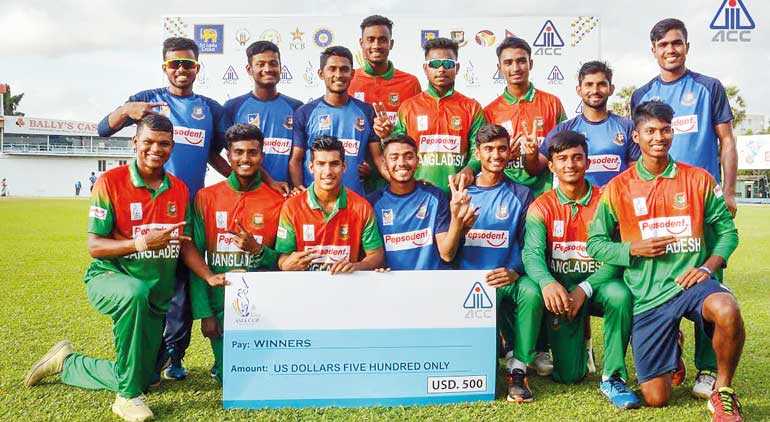 Bangladesh celebrate their win against Nepal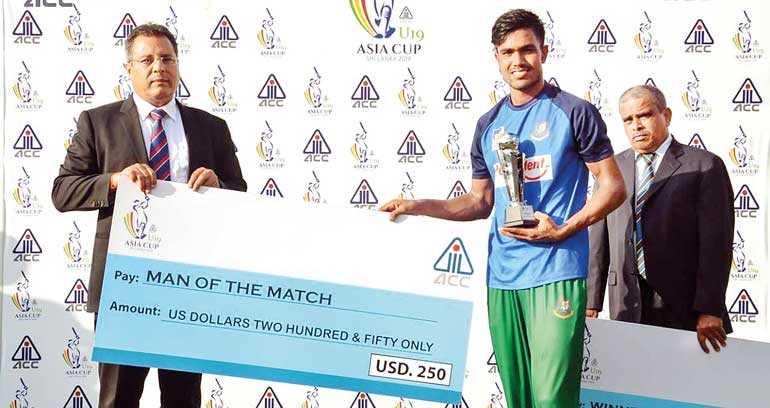 Bangladesh Akbar Ali - Man of the Match
---
ACC Under-19 Asia Cup 2019
By Shamseer Jaleel

Hosts Sri Lanka and Bangladesh carried their unbeaten tag when they beat UAE and Nepal respectively in their ACC Under-19 Asia Cup which is in progress in Colombo.

Sri Lanka and Bangladesh by winning both their matches will qualify for the semi-finals. Both teams will meet in the first round game tomorrow at Moratuwa. Meanwhile Afghanistan and India will move forward for the semi-final from their group.

Pakistan will be pushed out of the tournament first around as they suffered their second defeat in two games. They lost out to India and Afghanistan in their two games. They will play Kuwait in their last group encounter.


Sri Lanka beat UAE by 52 runs at Katunayake

Sri Lanka 326 for 8 in 50 overs
Ahan Wickramasinghe 73, Navod Paranavithana 61, Nipun Dananjaya 60, Rohan Sanjaya 36, Chamindu Wijesinghe 27, Ravindu Rasantha 22
RisharbBukherjee 3 for 65, PalaniapanMeiyappan 2 for 70
UAE 274 for 9 in 50 overs
AnshTandon 100 not out, Osama Hassan 55, AlishanSharafu 36, Syed Haider 27, V.Aravind 26
Navod Paranavithana 4 for 54, Rohan Sanjaya 2 for 36, Nipun Dananjaya 2 for 41
Bangladesh beat Nepal by six wickets at P. Sara Stadium

Nepal 261 for 8 in 50 overs
PawanSarraf 81 Sandeep Johra 56, RitGautham 32, Kushal Malla 28
Tanzim Hasan Sakib 2 for 51, Shahin Alam 2 for 58
Bangladesh 262 for 4 in 49.2 overs
Akbar Ali 98 not out, TowhidHridoy 60, Shamim Hossain 42 not out, Mahmudul Hasan Joy 40
Kamal Singh 2 for 59
India beat Pakistan by 60 runs at Moratuwa

India 305 for 9 in 50 overs
Arjun Azad 121, Nt Tilak Varma 110
Naseem Shah 3 for 52, Abbas Afridi 3 for 72
Pakistan 245 in 46.4 overs
Rohil Nazir 117, Haris Khan 43
AtharvaAnkolekar 3 for 36, VidyadharPatil 2 for 28
Afghanistan beat Kuwait by seven wickets at RPICS

Kuwait 85 in 27.3 overs
Meet Bhavsar 20
Fazal Haque 2 for 20, ShafiqullahGhafari 4 for 16
Afghanistan 83 for 3 in 12.5 overs
Farhan Zakhil 38 not out, M.Rahmatullah 28
Sri Lanka beat Nepal by five wickets at RPICS

Nepal 159 for 9 in 42 overs
Rit Gautam 54, Rohit Paudel 47
Dilshan Madushanka 3 for 23, Navod Paranavithana 3 for 26
Sri Lanka 159 for 5 in 33.4 overs
Kamil Mishara 55, Ahan Wickramasinghe 30, A. Tharindu 25 not out
Rashid Khan 2 for 21
Bangladesh beat UAE by 6 wickets at Katunayake

UAE 127 in 28 overs
Osama Hassan 58, AlishanSharafu 34
Rakibul Hasan 3 for 25, Tanzim Hasan Sakib 3 for 36, Shariful Islam 2 for 16
Bangladesh 128 for 4 in 21.3 overs
Tanzid Hasan 45, Hossain Emon 30, Hasan Joy 27
Rishabh Mukherjee 2 for 27
Match fixtures today
India vs Afghanistan – CCC
Pakistan vs Kuwait – Moratuwa
Pix by Chamila Karunarathna