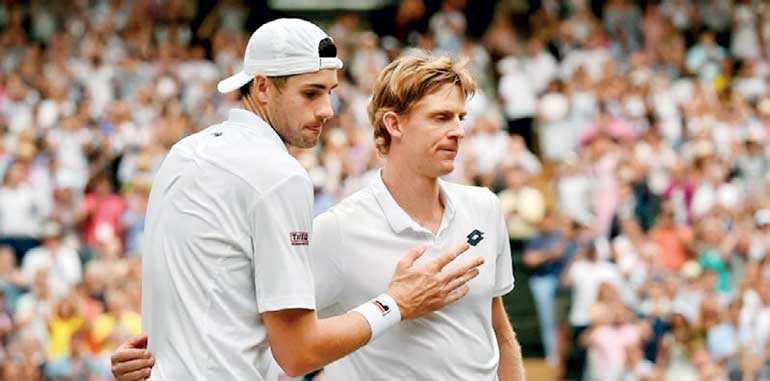 FILE PHOTO: Tennis - Wimbledon - All England Lawn Tennis and Croquet Club, London, Britain - July 13, 2018. South Africa's Kevin Anderson celebrates winning his semi final match against John Isner of the U.S. . Glynn Kirk/Pool via Reuters/File Photo
NEW YORK (Reuters): Wimbledon and the Australian Open are considering introducing final-set tiebreaks in 2019.

The issue hit the headlines after the six-hour, 36-minute semi-final between Kevin Anderson and John Isner at Wimbledon this year, which Anderson won 26-24 in the final set.

The exhausted South African then lost in straight sets to Novak Djokovic in the final.

An All-England Club spokesperson told Reuters the topic will be "reviewed and considered as part of the post-Championships debrief" at Wimbledon.

Tennis Australia officials have been canvassing opinion at the US Open, including from players, ex-players and coaches, about final-set tiebreaks – in the men's and women's singles events - and even best-of-five sets versus best-of-three.

The US Open is the only one of the four Grand Slam events to have a final-set tiebreak in singles, though the Australian Open and French Open use it in doubles.Advocates of the final-set tiebreak believe it will help to extend players' careers after serious injuries to several of the top names in recent years, and attract new fans to the sport.

The four Grand Slam tournaments are due to hold a scheduled meeting at Flushing Meadows this week.

Anderson, a member of the ATP Player Council, said he felt it was a matter of time before the final-set tiebreak came in.

"I think Wimbledon are looking at it," he said. "There are obviously some pros and cons but I have heard that they are discussing it.

"It will be interesting to see what they come up with. And Australia, potentially, as well.

"A lot of sports are having to change their formats, there's a different demographic coming up, so maybe even three-out-of-five-set tennis may have to be looked at, at some point.