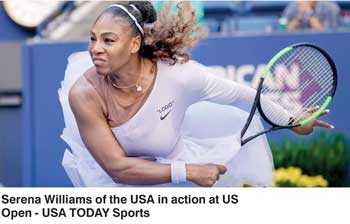 NEW YORK (Reuters): Serena Williams swept past Anastasija Sevastova 6-3 6-0 on Thursday and into the final of the US Open to sit one win away from a record-equalling 24th Grand Slam title to continue her remarkable return to the top levels of the game after she almost died while having a baby last year.

Williams walked off Arthur Ashe Stadium court with a wave and twirl then waited to find out who she will play in Saturday's final.

That was also decided quickly as Japan's Naomi Osaka dismissed last year's losing finalist American Madison Keys 6-2 6-4.

Asked if she had message for Williams, Osaka, who beat Williams in their only head-to-head meeting, smiled and said, "Serena I love you."

Just seven months and seven tournaments removed from returning to competition following the birth of her first child, Williams was back at her ruthless best and needed just 66 minutes to beat the 19th seeded Latvian and reach her 31st Grand Slam final.

A win on Saturday would also give the 36-year-old American a seventh US Open title, breaking a tie with Chris Evert for the most in the Open era.

Honestly, it is remarkable. I couldn't have predicted this at all," said Williams. "I got a little emotional out there because last year I was literally fighting for my life in the hospital.

"I was on my third surgery. I had one more to go still.

"To come from that, in the hospital bed, not being able to move and walk and do anything, now only a year later I'm actually in these finals, in two in a row.

"Like I said, this is the beginning. I'm not there yet. I'm on the climb still."

It will be the second consecutive Grand Slam final for Williams who came agonisingly close to matching Margaret Court's record of 24 majors at Wimbledon but was beaten by Angelique Kerber.

Sevastova arrived at her first Grand Slam semi-final riding a wave of momentum built from a fourth round win over seventh seed ElinaSvitolina and a quarter-final demolition of defending champion and third seed Sloane Stephens.

That confidence jumped when the 29-year-old broke Williams to open the match then held for a 2-0 lead as an uneasy hush fell over the Arthur Ashe showcourt.

But Williams, who had dropped just one set on way to the last four, quickly restored order as she charged the net one moment and pounded winners from the baseline the next that left her opponent stunned as the American won 12 of the next 13 games.

"I know how to volley, I usually come in just to shake hands," said Williams.

"But tonight I thought I am playing such a good player I knew if I wanted to have a chance tonight I had to come in."

Despite her dominant display Williams estimated she is still only operating at 50-60 percent and then fired an ominous warning to her fellow players.

"There's still much more that I plan on doing," declared Williams. "I just feel like there's a lot of growth to still go in my game.

"Even though I'm not a spring chicken I still have a very, very bright future."
---
Serena Williams on brink of record-equalling title
Reuters: Serena Williams is gunning for a record-equalling 24th Grand Slam title when she meets rising Japanese talent Naomi Osaka at the US Open women's final on Saturday.

The 20-year-old Osaka toppled 2017's runner-up American Madison Keys 6-2 6-4 on Thursday, earning her a spot in the Grand Slam final against Williams, whom Osaka admired since she started watching the US Open on television as a child.

Wimbledon runner-up Williams, who returned to the sport in March after giving birth last September, is trying to keep thoughts of how close she is to matching Australian Margaret Court's all-time Grand Slam record out of her mind.