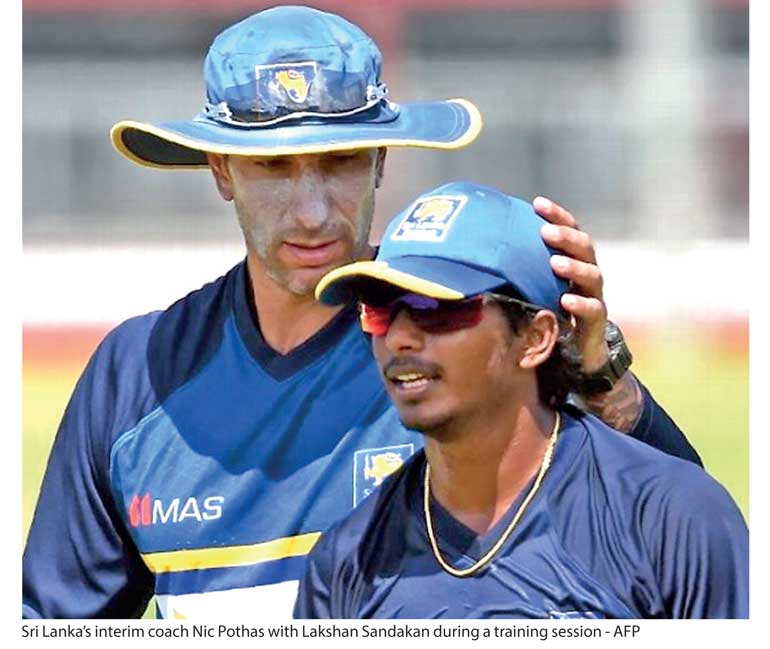 ESPNCricinfo: It has now been more than two years since Sri Lanka's last high-profile retirement, and the team is "sick and tired" of talking about transition. These sentiments have been put forth by several players and coaches over the past year, most recently by Dinesh Chandimal in April. Now, interim coach Nic Pothas - who has often struck an optimistic tone on Sri Lanka's recent travails - has joined the chorus.

Sri Lanka are tired of languishing in their larval stage, he said. The team is desperate for the series against Pakistan to feature resurgence and regeneration.

"We are probably in an era where we are sick and tired of talking about transition," Pothas said, three days out from the first Test. "Sick and tired of about talking about it as a 'learning period'. It is time to go out and perform, and that is the challenge. You are going to meet a world-class team. We have to move forward."

Part of Sri Lanka's failure to progress since the retirement of its batting stars has been down to individual inconsistency. Kaushal Silva, for example, replaced Tillakaratne Dilshan in the XI, but although he had initially impressed - not least on Sri Lanka's 2013-14 trip to the UAE - he had since been dropped twice from the squad.

Kaushal has been recalled again, but Pothas suggested he must compete for a top-order spot with the uncapped 22-year-old Sadeera Samarawickrama. Though generally a middle-order batsman and wicketkeeper in the longest format, Samarawickrama has been picked as a top-order player, Pothas revealed. In limited-overs cricket, Samarawickrama has generally opened for his domestic sides.

"Sadeera's a top-order batsman and we are very fortunate that we can use him in that regard. The selectors have said that we can use the players in the position they have been picked for, and he has been picked to cover the top three."

With Angelo Mathews unavailable for the first Test, Roshen Silva is the other uncapped batsman in contention for a place in the XI. Perhaps the most consistent domestic batsman over the past six years, Roshen averages 48.19 in first-class cricket. He had made 614 runs at an average of 55.81 in the most recent Premier League Tournament.

"Roshen has come into the side at the back of runs in the domestic competition," Pothas said. "We are making a mark to indicate that if you score runs in the domestic circuit, you will get a chance to play for the national team. His record [in domestic cricket] is second only to Kumar Sangakkara, and he is at great form at the moment."

The first Test begins in Abu Dhabi on Thursday.
Sri Lanka Cricket salutes Sangakkara
Sri Lanka Cricket said it saluted one of its greatest stars of recent times, Kumar Sangakkara, on the latest honour bestowed upon him by the County of Surrey which offered him an honorary lifetime membership in the club.

This follows Sangakkara's three-year stint of playing for the county in the county championship following the former Sri Lankan cricketer's retirement from the national team. This act of appreciation follows Sangakkara's honorary membership at the MCC a couple of years ago.

"This is a great tribute to Sangakkara and to cricket in Sri Lanka," said SLC President Thilanga Sumathipala. "We at SLC are proud of him and value the prestige bestowed on him and thank him for the great ambassador he has become for the game of cricket in general and Sri Lanka in particular," he added.

"Sri Lanka Cricket is lucky that we have such a wealth of talent and experience around it and considering the respect many of these cricketers enjoy, we hope that the likes of Sangakkara will give back to the national game their valued expertise and knowledge. We are truly proud of him," Sumathipala declared.