Royal Turf Club (RTC) Chief Executive Officer (CEO) Wayne Wood will return to Sri Lanka with intentions to kick-start the much awaited horseracing season of 2020.

The last RTC raceday event was supposed to be held on 21 April 2019, the fateful day of the Easter Sunday terrorist attacks, but was cancelled even before the commencement.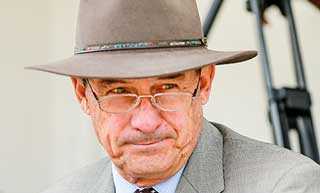 Wayne Wood
"We have waited long enough to restart horseracing in Nuwara Eliya and with the end of the rainy season, it will be the ideal time to kick-start RTC events. With that intention Wayne Wood will make his return to Sri Lanka, to plan out a full calendar of exciting horseracing beginning from March," RTC Treasurer Nisitha stated.

Wood is to reach Sri Lanka for the commencement of the season with a Mock Race on 22 February to monitor and ensure an action filled racing season. The RTC owners are pplanning the upcoming activities, mainly races, and a few training and development programmes pertaining to the sport in Nuwara Eliya.

Wood, who was the inaugural CEO of RTC, continues to play an important role in maintaining standards while helping Sri Lanka reach global status in horseracing.

Wood is a respected member of the international racing community, with a wealth of thoroughbred racing experience, both in practical terms and as a senior administrator.

His passion for horseracing blossomed in school where he took part in horse shows in his native land Australia. He also assisted now retired Sydney trainer Ted Stanton from a young age. After leaving school and working for Stanton for a short period, Wood's direction shifted to administration where he started in the racing office at the Sydney Turf Club and moved up the ladder serving the Australian Jockey Club, Metropolitan Race Club, West Australian Turf Club, Queensland Racing, Royal Western India Turf Club in Mumbai and as Director of Racing and Chief Stipendiary Steward for the Bangalore Turf Club before joining RTC.

Wood is known for his integrity and for being a fair and fearless adjudicator with a no nonsense attitude towards those who breach the Rules of Racing.

The racedays are currently being planned out by the RTC beginning with the 'Mock Race' to give the runners the opportunity to warm up for at least eight more racedays to follow.

Among the important races of the RTC events calendar are Spring and Summer Race Cup, the Governor's Cup, the Magic Million Cup and the Queen's Cup.

The RTC is also negotiating with few of its international counterparts to field horses and jockeys for the upcoming racedays.

According to the RTC Treasurer, talks are still open and there is a huge possibility of Sri Lankan horserace lovers witnessing star class horses and jockeys competing in the coming weeks. "We are thrilled to finally bring back the Racecourse in Nuwara Eliya alive with events, where all top jockeys are expected to run on thoroughbred horses. It's also satisfying to have our existing partners remaining with us through our effort to promote horseracing in Sri Lanka and help the sport reach international standards. At the same time we are extremely glad to see new partners joining in as sponsors for the races, in furtherance of giving a fabulous show of global standard and four eventful racedays," the Treasurer added.