By Shamseer Jaleel reporting from Hong Kong
Sri Lanka kept their hopes alive for the Rugby World Cup Sevens next year when they beat Taipei and ended third in their group at the Asian Sevens first leg which was worked-off at the Kings Park Sports Stadium in Kowloon, Hong Kong yesterday. Sri Lanka was beaten by Japan (33-5) and South Korea (24-14) in a close game but went on to beat Taipei (52-7).
Sri Lanka will need to keep their form and end at least second at the end of the Asian Series 2017 to qualify from the Asian zone for the Rugby World Cup Sevens 2018 in San Francisco. Sri Lanka will play China in the cup quarterfinal encounter (10:36 a.m. SL time). A win here will lead to another battle against Japan in the cup semifinals.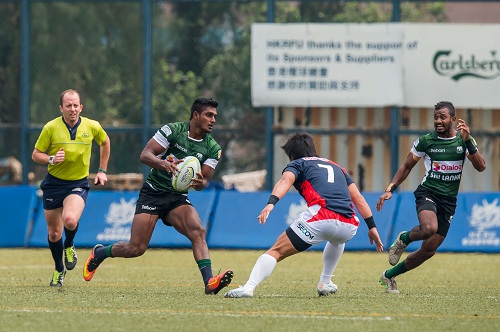 Jason Dissanayake about to pass the ball to Sudam Sooriyarachchi
Japan 33 points
Sri Lanka 5 points
Sri Lanka kicked off their Asian Sevens 2017 series with a convincing first-half, going down narrowly by a one-try difference. But it was one-way traffic in the later half with the professional Japanese outfit running away winners 33-5. The main worry for the Sri Lankan outfit was securing the kick off high ball. They were far too slow compared to the Japanese outfit that was lightning fast and jumping high above the Sri Lankan Jason Dissanayake. Sri Lanka defended well with Muthuthanthri leading from the front.
Sri Lanka played well in the initial half and started the scoring of the tournament when Tharinda Ratwatte broke free to score in the right corner. The kick was not successful. Japan touched down to equal the scores. Soon afterwards, Japan scored their second try and converted to take the half time breather at 12-5.
After the turn-around, Japan scored three unanswered tries to take the game 33-5. Sudam Sooriyarachchi, Naveen Heenakankanmge, Buddhima Piyaratne and Samith Dhananjaya all made their sevens debuts for the country at this encounter.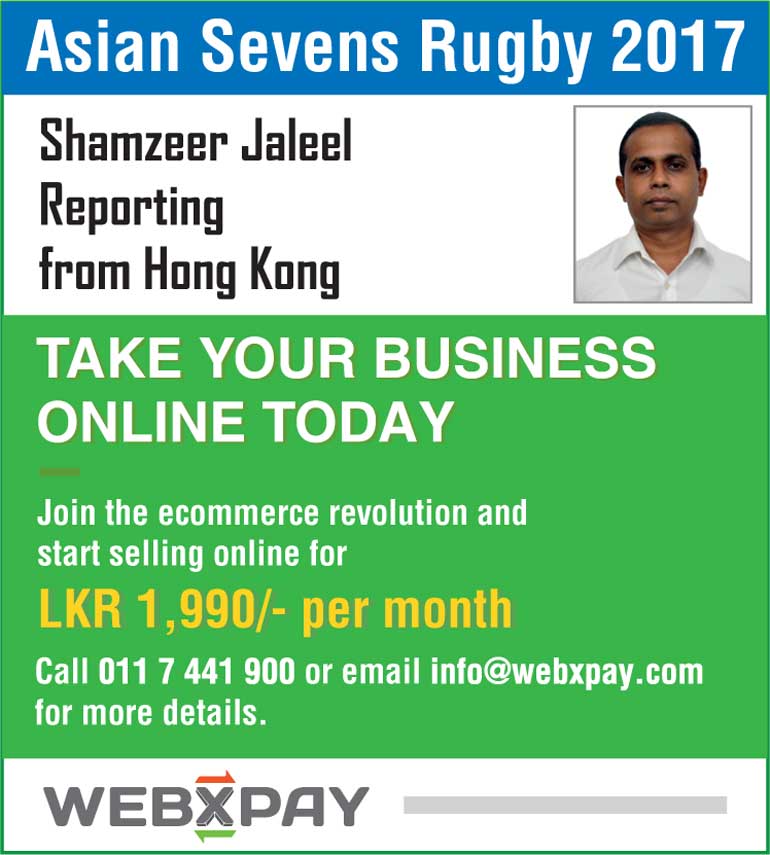 Sri Lanka 52 points
Taipei 7 points
Sri Lanka played cohesive rugby and outclassed Taipei in a one-sided affair, where Sri Lanka scored eight tries and Taipei could answer with only one of them. The game which was played under wet conditions saw Sri Lanka attacking from the kick off.
Playing as one unit from the kick off with Danushka Dyan touching down the first try, Tharinda Ratwatte added the extra two points. In the next move, Tharinda Ratwatte scored Sri Lanka's as well as his second try of the tournament when he touched down. Sudam Sooriyarachchi added the extras. Taipei responded with one converted try but the Sri Lankan outfit that cannot be kept silent scored through Sudam Sooriyarachchi. Tharinda added the extra two points. Skipper Muthuthanthri handed off a few Taipei players and scored his first try to take lemons at 26-7.
After the turn around it was one-way traffic as Sri Lanka scored tries through Kavindu Perera (2) and Naveen Heenakankanmge. Dixon converted three of them while Tharinda was accurate on his solitary kick at goal.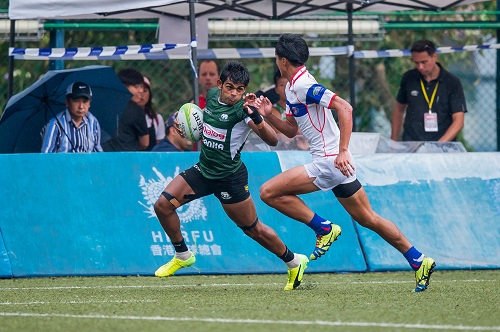 Naveen Heenakankanmge avoids a tackle by a Taipei player
Sri Lanka 14 points
South Korea 24 points
Sri Lanka, after displaying quality Sevens rugby, led the first half 14-5 but ran out of steam when the Koreans scored three unanswered tries, not only to secure a win but also to account for the number two position in their group with a 24-14 win.
Sri Lanka scored through their skipper Muthuthanthri who covered more than 50 metres to touch down for the first try. Tharinda added the extra two points. Soon afterwards, the Korean scored their first try to cut the deficit to 7-5 but Sri Lanka scored their second try through Sudam Sooriyarachchi with Tharinda adding the extras. After the turn around, Korea was in top form, scoring three tries in tandem.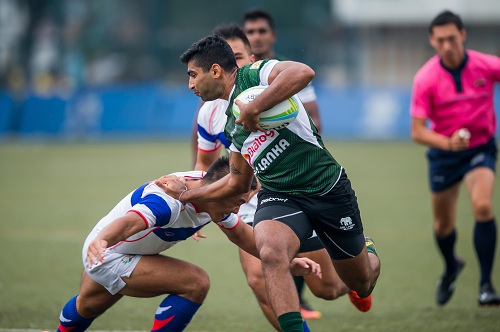 Sri Lankan player Tharinda Ratwatte attacking against Taipei
Day 1:
Japan beat Sri Lanka 33-5, South Korea beat Taipei 43-7, Hong Kong beat Malaysia 31-0, China beat Philippines 22-5, Sri Lanka beat Taipei 52-7, Japan beat South Korea 33-10, Hong Kong beat Philippines 38-5, China beat Malaysia 54-14, Japan beat Taipei 38-0, South Korea beat Sri Lanka 24-14, Hong Kong beat China 26-7, Philippines beat Malaysia 26-0.
Day 2 matches Cup quarter finals (September 2):
Hong Kong vs. Taipei
Japan vs. Malaysia
South Korea vs. Philippines
Sri Lanka vs. China
- Pics by Sameera Peiris