Spa-Franc-orchamps, Belgium (Reuters): Sebastian Vettel ended speculation about his immediate Formula One future by signing a three-year contract extension with Ferrari on Saturday.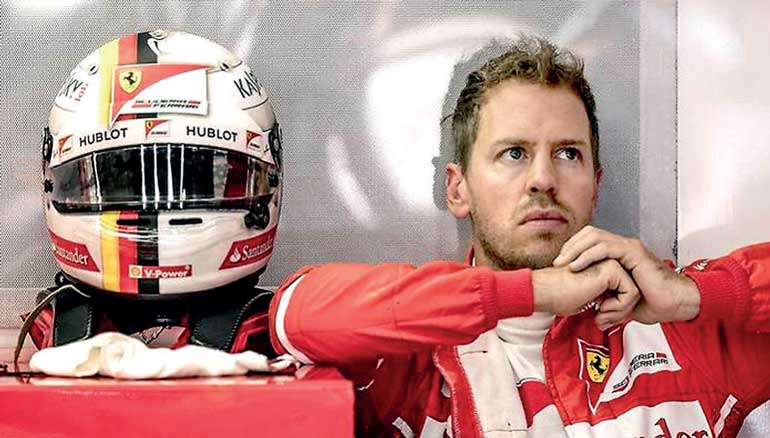 The Italian team, the sport's most successful and glamorous, said the new deal covered the 2018, 2019 and 2020 seasons but gave no further details in a four-line statement of just 30 words.

There will be inevitable questions about possible release clauses, not to mention speculation about how many tens of millions of dollars the 30-year-old German will be earning over the period.

But the news, at the Belgian Grand Prix and a week before his team's home Italian race at Monza, will allow Ferrari to concentrate on fighting for the championship without distraction.

The four-times champion is 14 points clear of Mercedes rival Lewis Hamilton in the current standings, with nine races remaining.

The German had been out of contract at the end of this season and there had been speculation about a possible switch to Mercedes – a shock move that would have sent a tremor through the paddock.

Hamilton, a triple world champion who has one more year left on his Mercedes contract, laughed off that possibility earlier in the week when he told reporters that his rival did not want to be his team mate.

Niki Lauda, the Mercedes non-executive chairman, told Sky Sports that there had been talks with Vettel.

"We discussed it briefly once with him, but the more competitive Ferrari goes the less the reason he would want to leave," said the retired triple world champion. "So therefore we stopped right away a couple of months ago.

"I think every driver, if he's clever, talks to more than one team. Then when you negotiate you're in a better position. That's what he did," added the Austrian.

Vettel's Finnish team mate Kimi Raikkonen, the 37-year-old 2007 world champion, has already agreed a contract extension for 2018, keeping Ferrari's line-up unchanged for next year.

Raikkonen and Vettel get on well, with the Finn playing the role of loyal sidekick to the team's main championship contender.

Vettel's decision to stay is likely to settle down the paddock until next year at least, and also appears to close down the prospect of Hamilton one day racing for Ferrari.

Mercedes are now likely to retain Finland's Valtteri Bottas, who joined in January from Williams as a replacement for now-retired 2016 champion Nico Rosberg on a one-year deal with options.

That will put the main focus now on McLaren's Fernando Alonso, who is also out of contract and looking for signs that the team can provide him with a competitive car before agreeing any new deal.

The Spaniard, a double world champion who raced in the Indianapolis 500 this year, would appear to have limited options within Formula One.

The latest media speculation has raised the possibility of a switch to Mercedes-powered Williams if he does not stay at McLaren.